4 ESSENTIAL SPRING SHOE TRENDS
& MY PICKS FOR ORTHOTIC & AFO DEPENDENT FASHIONISTAS
This spring is all about patterns and feminine details. Some of the hottest shoe trends we're seeing include knots and bows, stripes, pearl and bead embellishments.
In my last post, Seasonal Self-Pity Syndrome, I give tips for coping with the "poor me" blues that some of us who have foot neuropathy, and use orthotics, experience each spring.
I've learned through the emails I have received via Trend-ABLE.com, that numerous AFO wearers were completely unaware (before reading the blog) that, depending on the brand and type of orthotic/AFO, and the physical condition of the person needing them, open toe sandals and kitten wedge heels were even a possibility.
As a person severely affected by Charcot Marie Tooth Disorder, which gets progressively worse, I have worn several different types and styles of AFOs. At 47 years old (I started wearing braces in my late 20's), an entire world of fashion that I thought was gone forever has now been opened up to me once again.
With that said, the following shoe recommendations, are just that: recommendations. I have tried each pair and know that they fit my two AFOs and my abilities. I look for shoes that have sturdy, not flimsy, leather backs, and enough depth at the opening to allow my fused (no movement) ankles to get in. I also look for shoes that stay secure on the feet. For example, ankle-high sandals with ties and flats with elastic straps across. Of course, if you have hand neuropathy, velcro closures are a bonus feature.
The following shoes may or may not work for you. If not, use the shoes as inspiration and motivation to find ones that you like and that work for you. Deal?!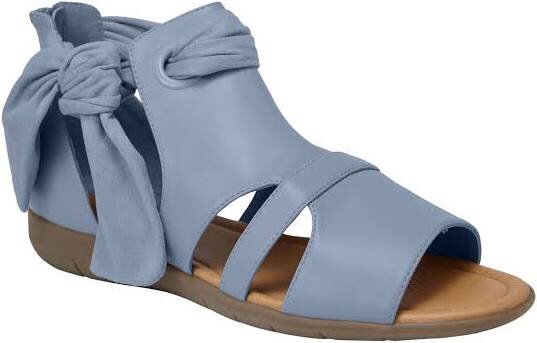 I love this stylish and sophisticated shootie (sandal/boot/shoe) called the Annika. It is faux leather and suede and comes in 4 colors. I'm loving the blue. It also has a flexible, skid-resistant sole, and a grooved bottom for extra grip. It comes in 2x wide. There is a back zipper.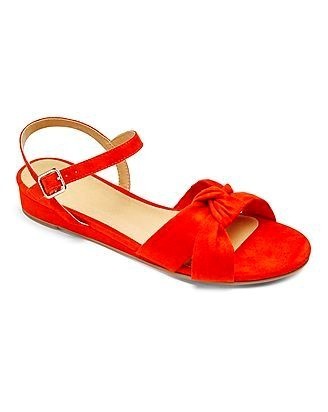 This adorable faux suede sandal is by Sole Diva and comes in several colors. The low heel is flattering when flats are your only option as the toes are slightly pointed. I would wear this shoe to a summer wedding or dress-up event. It also comes in 2x wide, so the strap extends far enough to buckle over an AFO.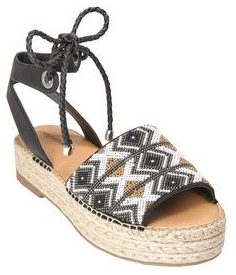 This sandal is called the Ashlyn. I am in love with the beaded ethnic print which also comes in shades of blue. It has a secure tie closure to ensure fit and memory foam insoles. The bottoms are slip resistant and the platform is 1 1/2 inches high, but even across.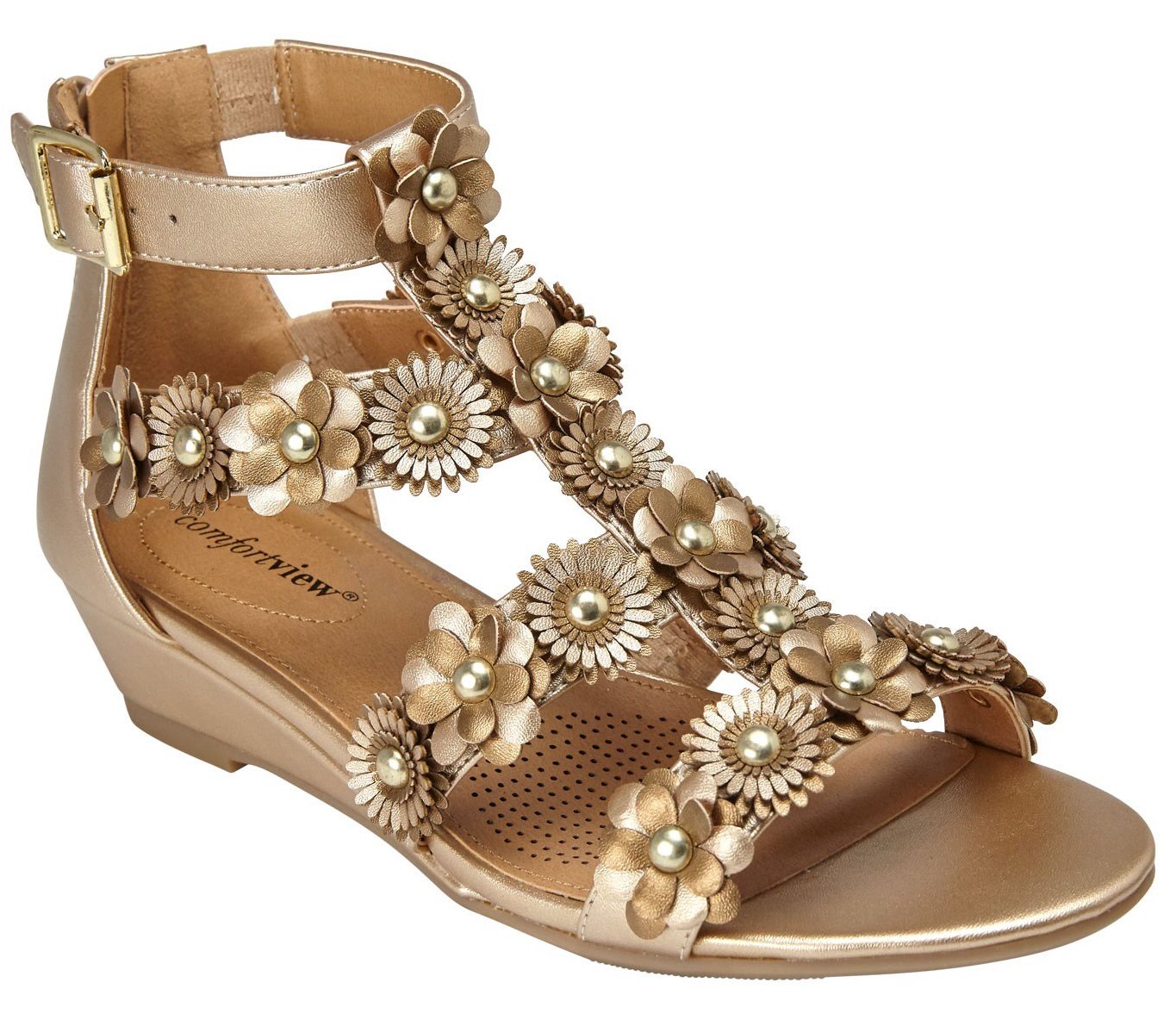 This super cute kitten wedge sandal is called the Alondra. It also comes in black and white. The gold looks cute dressed up or with jeans. The sole is nonskid, and it features elastic gore for a secure fit. This sandal comes in 2x wide.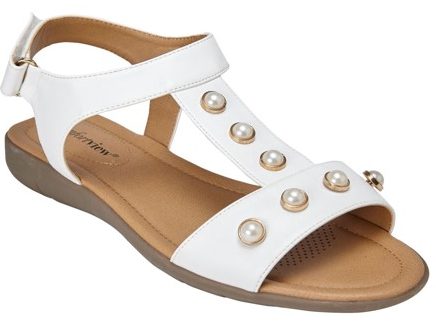 This simple sandal is one of my favorites. It also comes in black and features a hand-friendly adjustable velcro ankle strap. The t-strap is a classic style, and the faux pearl studs are on-trend. The grooved bottom provides extra grip and fall prevention. This comes in 2x wide.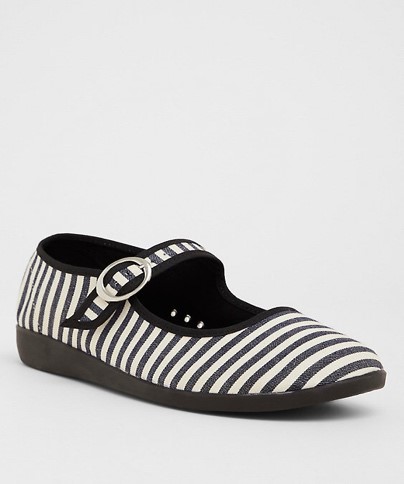 A striped canvas Mary-Jane flat that's super comfortable. The footbed is padded, and the buckle is adjustable. This shoes comes in wide width but runs large.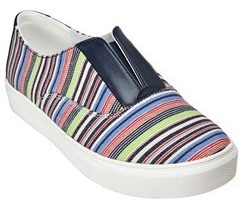 A cute and comfy sneaker that comes in 3x width. I was able to slip it on without much effort but would definitely cut the tongue down the center for more flexibility. This is a non-slip shoe that's easy to wear.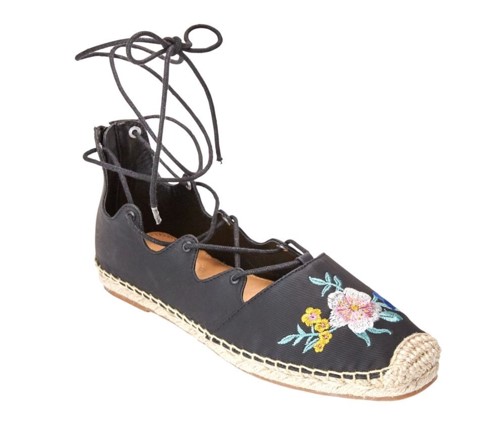 Extra-wide width, trendy shoes are not easy to find, especially for under $50. These canvas espadrilles have modern floral embroidery, and a provide security as they tie at the ankle. I always double-tie lace wrap shoes.
What do you think? Do any of these styles speak to you?