A FEW SMOKIN' HOT OUTFITS
Nothing screams the start of summer more than a backyard barbecue! With Memorial weekend fast approaching, patio furniture everywhere, is being cleaned and uncovered and the smell of charcoal is  beginning to fill the air. Whether it's a graduation party or casual gathering with friends, an evite to some type of outdoor barbecue is imminent; You may even want to check your inbox right now.
But, deciding what to wear to a barbecue over your leg braces can be tricky, especially if like me, you're not the show your braces, shorts wearing kinda girl. But don't stress, I've got you covered. Here are a few outfit ideas to wear over leg braces that will give you a casual chic vibe (dressed cute but not overdone) and keep you feeling cool and comfortable.
WHITE IS RIGHT, BUT NOT TOO TIGHT
You can never go wrong with a crisp pair of white jeans. Of course, if you have fine motor challenges, it's best to steer clear of ketchup and barbecue sauce when you wear them. I suggest filling up on corn on the cob, people without disabilities can't even eat it gracefully. For more
tips on navigating parties with poor balance and fine motor weakness,
 check out my
post here.
The style of jeans that will fit over afos depends upon the size and type of braces you wear. I have more options with my carbon fiber afos than I did when I wore the custom plastic type of afos. I can even wear skinny/slim fit legs. In my DIY frayed denim hack post, I explain how to update older styles of jeans and what type of denim to look for if you want to wear skinny jeans with afos. If your leg braces are on the bulkier side, it's best to look for white bootcut or flare leg jeans.
One of the best parts about white jeans, is that they can be dressed up for a Saturday night barbecue (think silky halter top & sparkly flat sandals), or worn casually for a daytime event. Be sure to wear nude colored underwear (white under white shows), and definitely throw a tide bleach pen in your purse. Btw, if you're wondering how to wear sandals with afos, check out my 16 Sandals post here.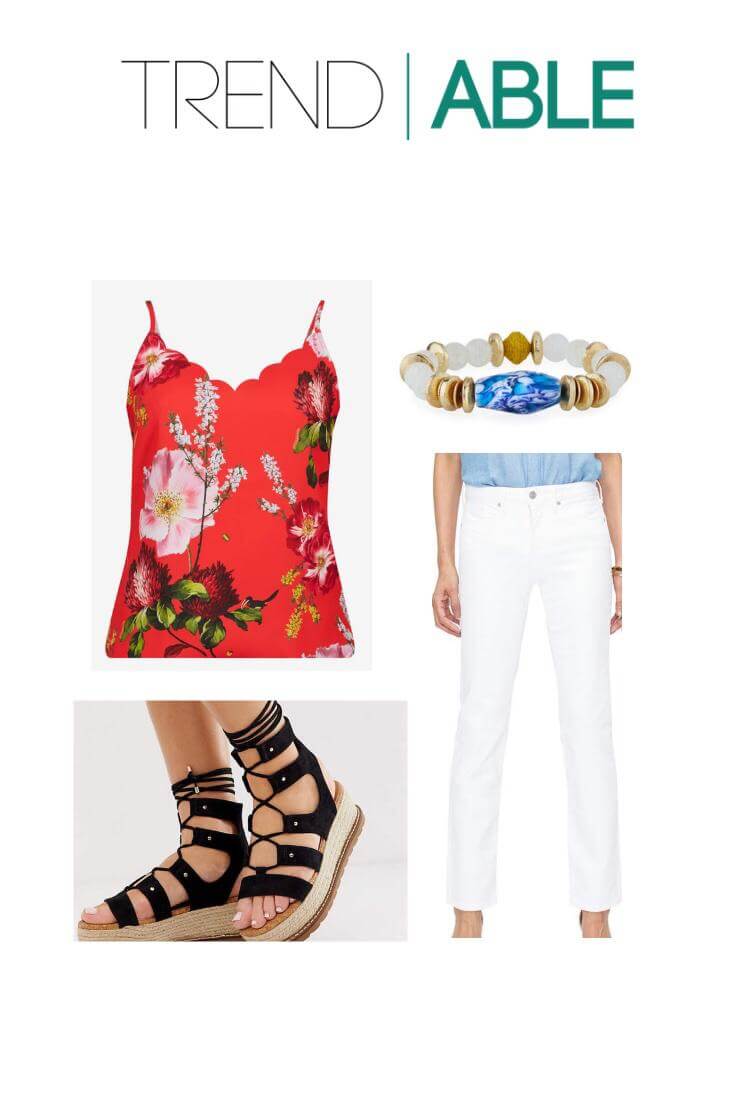 PALAZZOS PLEASE
A pull on style pair of great palazzo pants is probably one of the best disability friendly choice for people who wear leg braces and have difficulty with buttons and zippers. These wide leg pants are typically made of lightweight, breathable fabrics and are extremely flattering on many body types (yes, even petite and curvier women). It's really about the top you pair with them and making sure it balances out the loose fitting pants.
If the palazzo pants have a print, choose a well fitted tee or top in a solid color; The same is true in reverse for solid color palazzos. My ideal casual barbecue look is a pair of washable linen pants, a striped tank, and a pair of cute espadrilles. Oh, and don't forget the sunglasses!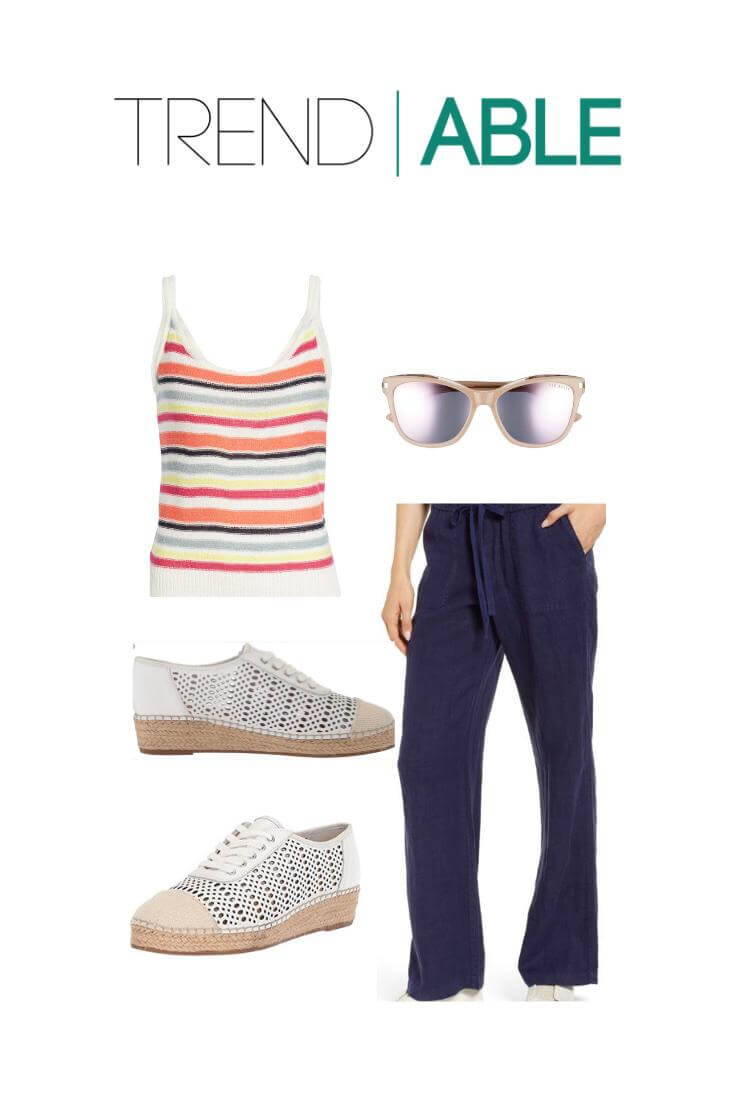 IF YOU CAN'T JUMP (SUIT), THEN RELAX TO THE MAX(I)
If you've been following me on
Facebook
 or
Instagram
 for awhile, then you probably already know that I love wearing jumpsuits. In my post about
what to wear over afos at resort pools,
 I even show the cute jumpsuit I wore as a bathing suit cover-up on our recent cruise.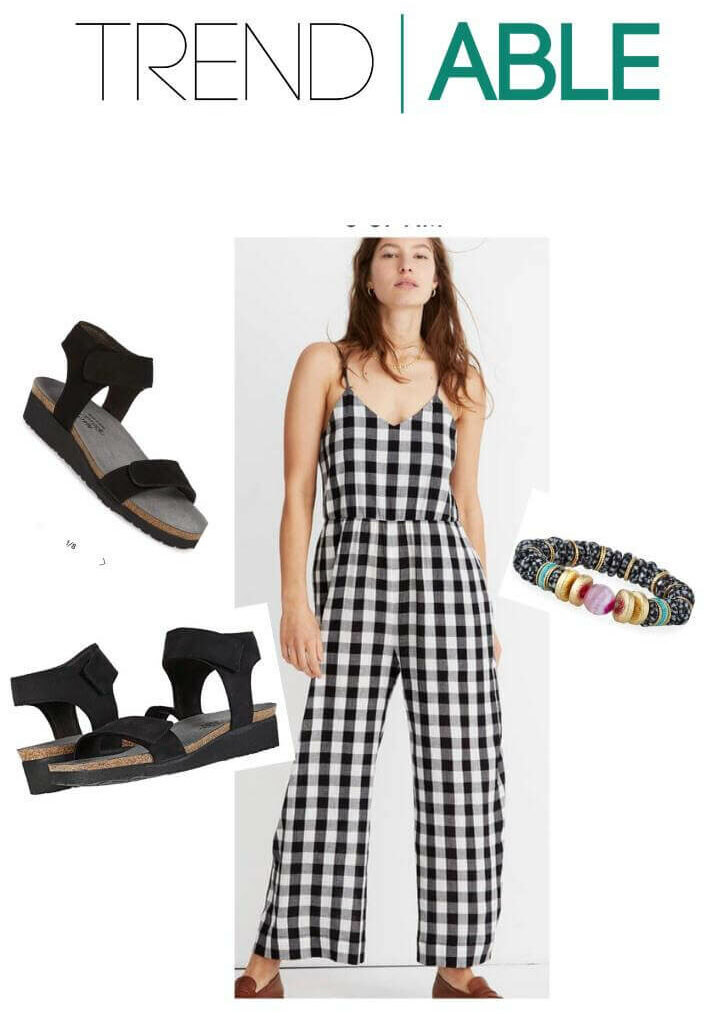 A lightweight jumpsuit that easily slips on and off (no zippers or buttons) is a smart, no-brainer outfit choice for a casual bbq party. But, if jumpsuits aren't your thing, maxi dresses are another great option.
Fortunately for afo wearers, the maxi dress is once again style again this season. You do not need to be especially tall or thin to rock a maxi dress. Like palazzo pants, it's all about proportion. Try to choose maxis in solid colors or small prints in soft cotton or linen material that gently hugs your curves, not body fitting or oversized. A maxi dress should hit right at the top of the shoe, never at the ankle. I personally like to wear maxi dresses with flat sandals, but a cute pair of sneakers also works.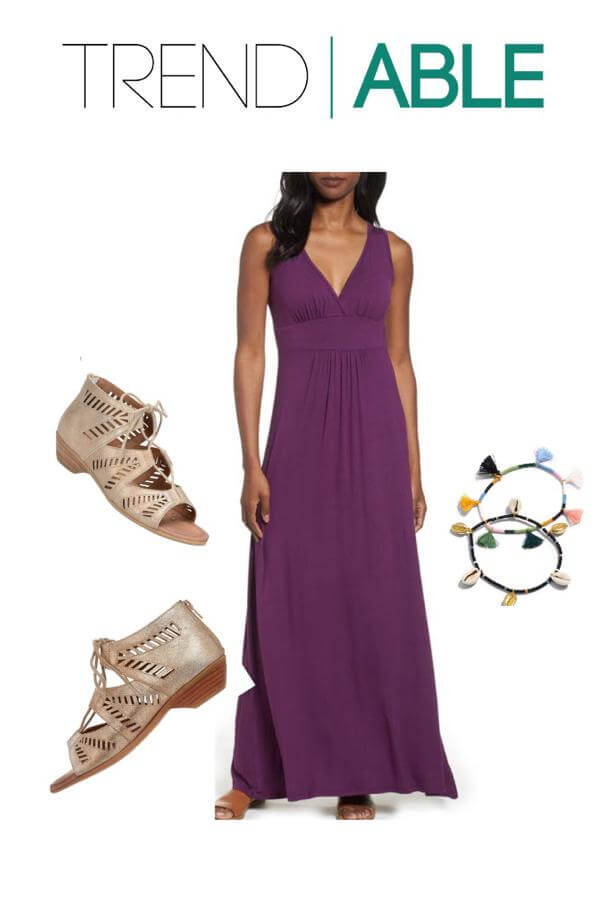 SHOP THE LOOKS IN THIS POST
Conclusion
What's your favorite look to wear for a bbq party? Do you need inspiration for
4th of July outfits
? Please share your thoughts and ideas in the comments section below. I love hearing from you!
Did you like this post?
Join
our perfectly imperfect tribe to get post updates and tips right in your inbox!
XoXo
Lainie
This post contains revenue generating affiliate links which helps support the the website costs at no additional cost to you. Thank you for shopping via my links.