INTRODUCING KEISHA GREAVES
Keisha Greaves is a woman with style, substance, and fierce determination. From a young age, Keisha dreamt of working in the fashion industry. After getting her Bachelors degree in fashion design and merchandising, Keisha went on to study business and graduate. Keisha was about to finish grad school when she began experiencing unusual physical problems. All of a sudden, she was falling down a lot, had very low energy, and was unable to lift one of her arms.
After being referred to a neurologist and undergoing a series of tests, Keisha was eventually diagnosed with a rare disease, called Limb-Girdle Muscular Dystrophy.
Limb-Girdle Muscular Dystrophy (LGMD) is typically characterized by progressive muscle wasting that can impact the entire body, but primarily affects the hip and shoulder muscles. There is no known cure or treatment for LGMD.
Although Keisha was shocked and terrified to receive a diagnosis of LGMD, she didn't let it stop her from finishing her degree and pursuing her dream of working in fashion. In 2017, Keisha founded her brand, Girls Chronically Rock, to help motivate and inspire other people living with chronic conditions. She also works as a motivational speaker and disability activist and serves as the Massachusetts State Ambassador for the Muscular Dystrophy Association. Keisha has been featured in many regional and national publications including, Good Morning America and The Today Show.
I met Keisha via Trend-Able's social media pages and was inspired and impressed by all of her accomplishments, positive energy, and resilience. Here is our interview: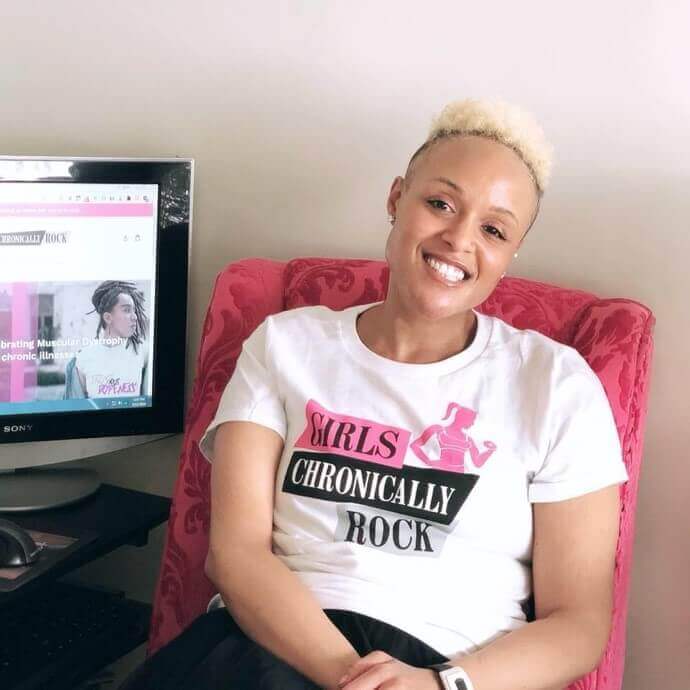 What does a typical day living with LGMD look like? What are some of your physical challenges?
Each day living with muscular dystrophy is different. Some days I am full of energy and feel really strong, and other days, I wake up with zero energy and it's a struggle just getting in and out of bed to use the restroom. Unlike an able person, I can't just think, "oh let me run to the bathroom." and quickly go. For me, it takes time, focus and energy, to make my legs do what I need and want them to do.
When I am successful at getting to the bathroom and back, or getting in and out of the shower without falling, it's a really big deal. I get all proud of myself, like I've just finished a Marathon, and say "YES!", sometimes out loud.
Girl, shout it from the rooftop if you want to. What would you say is the hardest part of living with LGMD on a day to day basis?
The hardest for me about having Muscular Dystrophy is not being able to plan and predict how my body will feel each day. It's hard when I have to cancel plans with friends and family at the last minute because my body has its own agenda. I hate it, but in the moment, there is literally nothing I can do.
I have a wonderful support system of amazing family and friends, but at the end of the day, they have NO IDEA what I go through on a daily basis or what I'm feeling. I try to explain to them how my legs feel, but it's just so hard to understand unless you're living with it.
That must be really hard. How do you cope with the loss and disappointment?
Honestly, I turn to my tv shows. I am a TV fanatic, and watch all the shows on Vh1 like, Teen Mom, Dynasty, Disney Channel, and more. Watching reality tv shows makes me laugh, keeps me sane and entertained. It's something I can look forward to.
I get that. For me, watching the Housewives on Bravo and all their ridiculousness, helps me relax and put things into perspective.
I try my best to be positive, especially on those bad days when  I've had a fall or great difficulty getting in and out of bed. I remind myself that what I am feeling is temporary and tell myself that things will be ok. And, as I said before, watching my tv shows and laughing helps me forget about the other things and relax.
So, tell us about your business…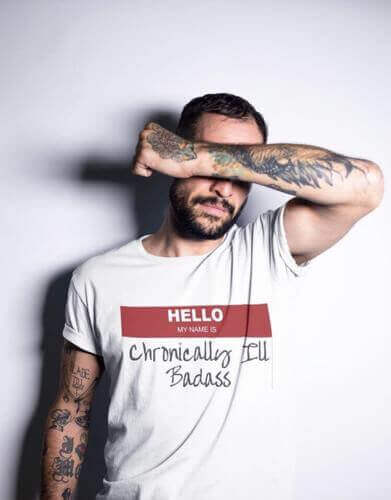 I have a brand called Girls Chronically Rock, which I created and trademarked in 2017. I sell graphic t-shirts and other items that are meant to inspire and motivate people battling chronic conditions. I want the Girls Chronically Rock brand to be bigger than an online t-shirt store. I am building a movement with the goal of creating an EMPIRE! My hope is to be able to collaborate on an adaptive clothing line with Tommy Hilfiger and to make a Girls Chronically Rock clothing line available in stores like Target and Macy's.
Describe your style. Does your condition impact what you wear?
My style is unique and creative but also comfortable at the same time. Since jeans are hard for me to put on and tend to make my legs feel heavy, leggings in all sorts of colors and prints, are my everyday go-to. I love pairing my leggings with easy to put on graphic t-shirts.
After being diagnosed with Limb-Girdle Muscular Dystrophy, I had to give away a lot of my shoes and clothing that no longer worked with my body and abilities. Jackets were the first to go as they tend to weigh me down and make walking more difficult. Also, trying to get them on is hard and feels like I'm putting on a straitjacket. To stay warm in the winter, I layer with long cardigans. My style is constantly changing but with a disability, it's most important for me to be comfortable. But when I can, I love to add a great statement necklace or a pair of earrings.
We have a similar love for fashion. Did you see the DIY Adaptive Fashion Blog I posted on Trend-Able.com? You could always modify a jacket so it works for you.  But, I'm guessing since you went to school for fashion design, you already know this?.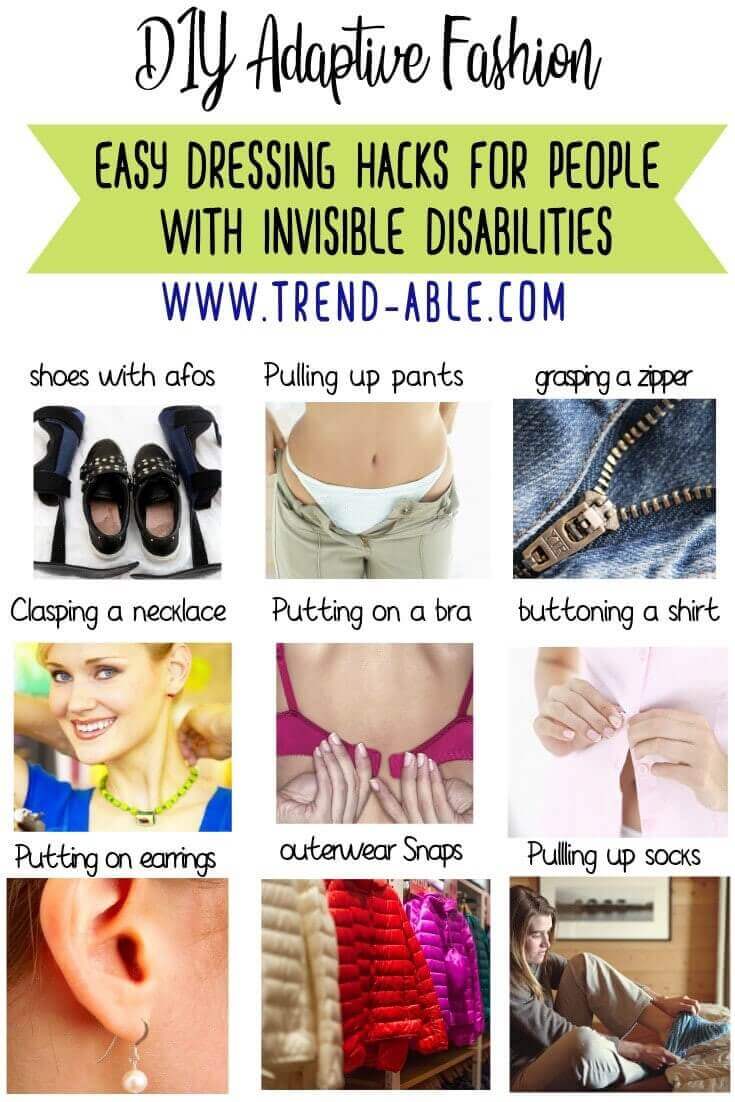 Ha ha…I will have to check it out.
Do you have a favorite quote or saying?
Yes, I even put them on the tees I sell. My favorites are, "Disability Does Not Define Me" and "Trust Your Dopeness"
What about a favorite movie? Book?
I love movies and have several favorites. At the top of my list is The Devil Wears Prada, Sex and the City, and Mean Girls, of course, lol. Basically, any movie that makes me non-stop laugh and is somewhat fashion related. My favorite book is "The Coldest Winter", by Sister Souljah.
When going out I find myself researching about where I am going first, like does this place have stairs? Does it have an elevator? Do they accommodate handicap people? So, all of these things I worry about when I go out and my friends and family have no idea.
Living with MD has made me realize how strong and capable I am. Although my MD continues to progress, I try to accept things as they come and adjust my life accordingly. For example, I recently began using a cane full-time to help me with balance and hopefully help prevent falls. Although it's definitely hard and not the life I once imagined, I do my best every day to live it to the fullest, the best I can and encourage others to do the same.
How can people find you and shop your t-shirt line?