How to straighten your hair with hand weakness
Straightening one's hair when you have hand weakness and other disabilities is not only difficult, it's downright dangerous! Believe me, I've probably bought every type of flat iron ever made and have the burn marks to prove it. Sure, wearing gloves can help, but not so much when you drop a 375° iron on your foot or accidentally brush it against your forehead.
A few weeks ago I was at Nordstroms and saw a display for the Brush Crush by Drybar. I've had blowouts done at Drybar's salons before and love their Detox Dry Shampoo– I'm a total sucker for cute packaging. Naturally, I had  to try their newest product.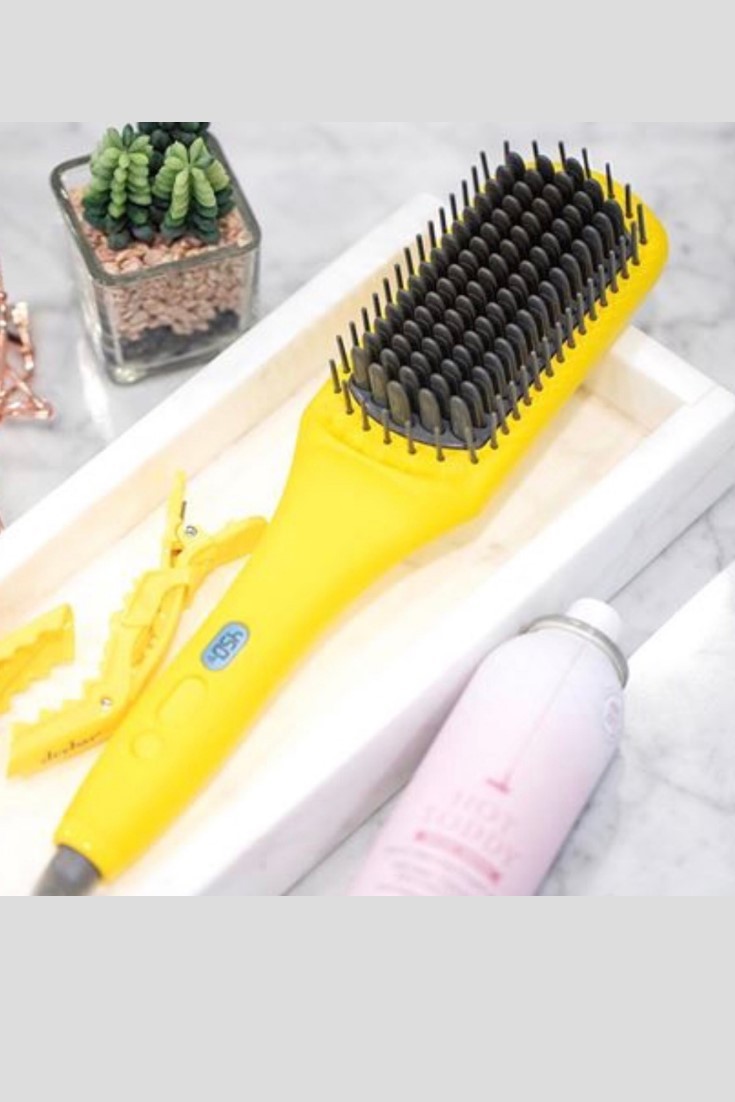 The Brush Crush is basically a paddle brush and straightening iron in one. When you turn the brush on you can increase the temperature to what works best for your hair. I have really thick hair and typically need to crank up the heat on all heated styling tools to at least 375 degrees. The great part about this tool for people who have hand tremors and weakness, is that unless you literally stick your fingers inside the bristles and touch the ionic base, it's pretty hard to burn yourself. Also, if you have brain fog and tend to forget things, the brush shuts itself off after 60 minutes. This is comforting as de-frizzing my hair is not worth burning down my house.
To use the Brush Crush tool, your hair first needs to be dry. If you have trouble holding and/or maneuvering a blow dryer, you can try using a hands-free blow dryer stand. Once your hair is dry, Drybar recommends using their accompanying heat protectant spray called Hot Toddy. Of course you can use any brand of heat protectant spray you want, but I actually really love the smell of their Hot Toddy one and the fact that it adds a ton of shine.
The Verdict:
Compared to a regular flat iron tool, the Brush Crush isn't winning any awards for best hair straightening tool. However, it is an awesome tool for smoothing hair and removing frizz after and in between blow dries. Although the Brush Crush is not as lightweight as I expected it to be, I love the fact that I can safely use it independently without fear of needing a burn center or new house.