This post has been updated March 2020 to include current fashion.
Pools & beaches can be extremely anxiety provoking, so I try to make what I wear over my afos as comfortable and as easy to get on and off as possible.
My go to on vacations (and all summer long) is a cute & comfy pull on jumpsuit in a lightweight and breathable material. I look for the most flattering swimsuit I can find (I am turning 50) and a great pair of  Waterproof sandals with velcro closures are a resort staple. I also pack a cute pair of stretchy flats that are easy to slip on & off.
This season I'm obsessed with large monogrammed totes that allow me to carry all my essentials and as an added bonus, are waterproof & allow me to store my afos (leg braces( without worrying about the straps getting wet.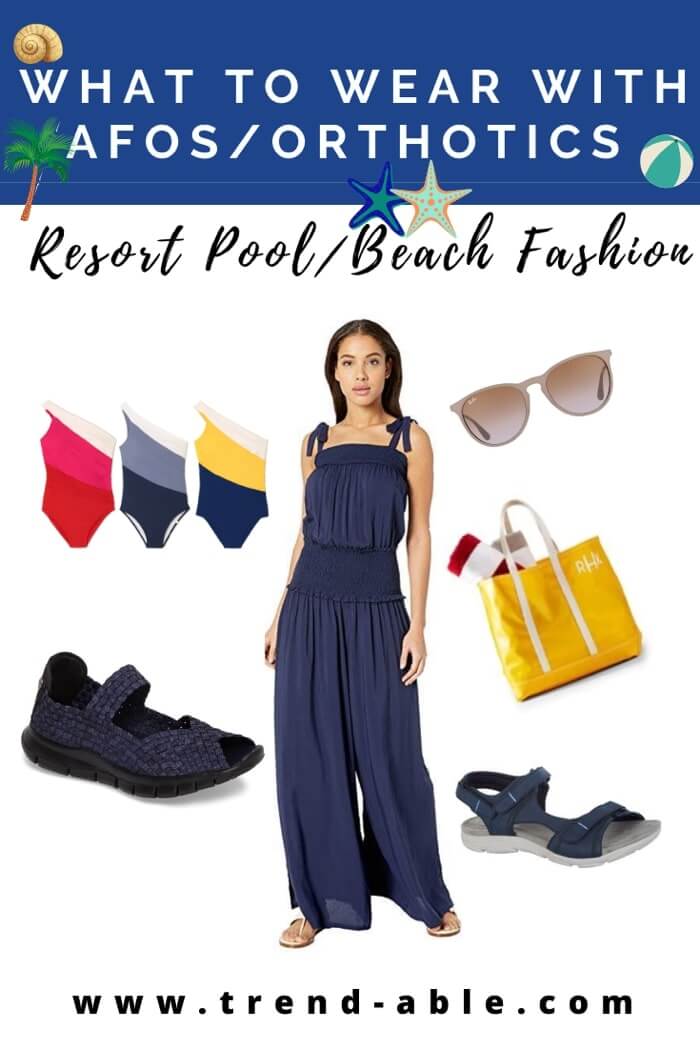 Resort casual offers so many opportunities to look amazing and feel comfortable in leg braces.
The look above is great for anyone with hand related challenges as the white jeans have an elastic waistband. I love to style a beautiful (over the head) satin cami with a fun, printed, open style kimono . You always need a layer for those air conditioned restaurants!
Nothing says vacation & summer like a great pair of espadrilles and those come in a wide width. For sandal wearers, the ones pictured are super comfy, inexpensive, & have a ton of support. Lastly, every resort outfit needs a colorful, stretchy statement bracelet!