"The content of this post has been updated to include current styles & links. "
The term "Resort Wear" sounds a bit pretentious right? Like an outfit that's supposed to look easy- breezy & casual, but in reality is very high maintenance to wear and costs more than a mortgage payment. Not exactly a style of clothing appealing to people with physical challenges & disabilities.
Of course the actual definition of resort wear (also called cruise wear) is just as it sounds. A type of dress worn around a tropical resort, on a cruise, and/or anywhere there's sun and a body of water. Wait, is there a body of water near Vegas? Irregardless, resort wear works in Vegas too, just with added bling & less fabric.
But resort wear isn't just a one season thing reserved for only wealthy, able-bodied jet setters. It's a year-round fashion style that allows people with disabilities & who wear afos (leg braces) like myself, to dress comfortably & stylishly while vacationing & all summer long.
Speaking of vacations….It's been a REALLY long cold winter here in Michigan! Fortunately, I'm getting away soon & counting down the minutes (seconds) until our Spring Break cruise. I know, lucky me!
So, after putting together this post on tips for cruising when you have a disability and the essentials cruise items to pack, I'm now turning my attention (and credit card) to finding cute & disability friendly resort wear outfits.
Of course, for the sake of "research", I had to buy some of the cute maxi dresses and sandals to take on our cruise. I mean, I need to make sure they hold up in a tropical climate right? Below are two resort wear daytime looks I'm loving. To see other afo friendly sandals, maxi dresses, and flowy pants to pack for a trip or anytime, you can visit the Trend-Able "Shop".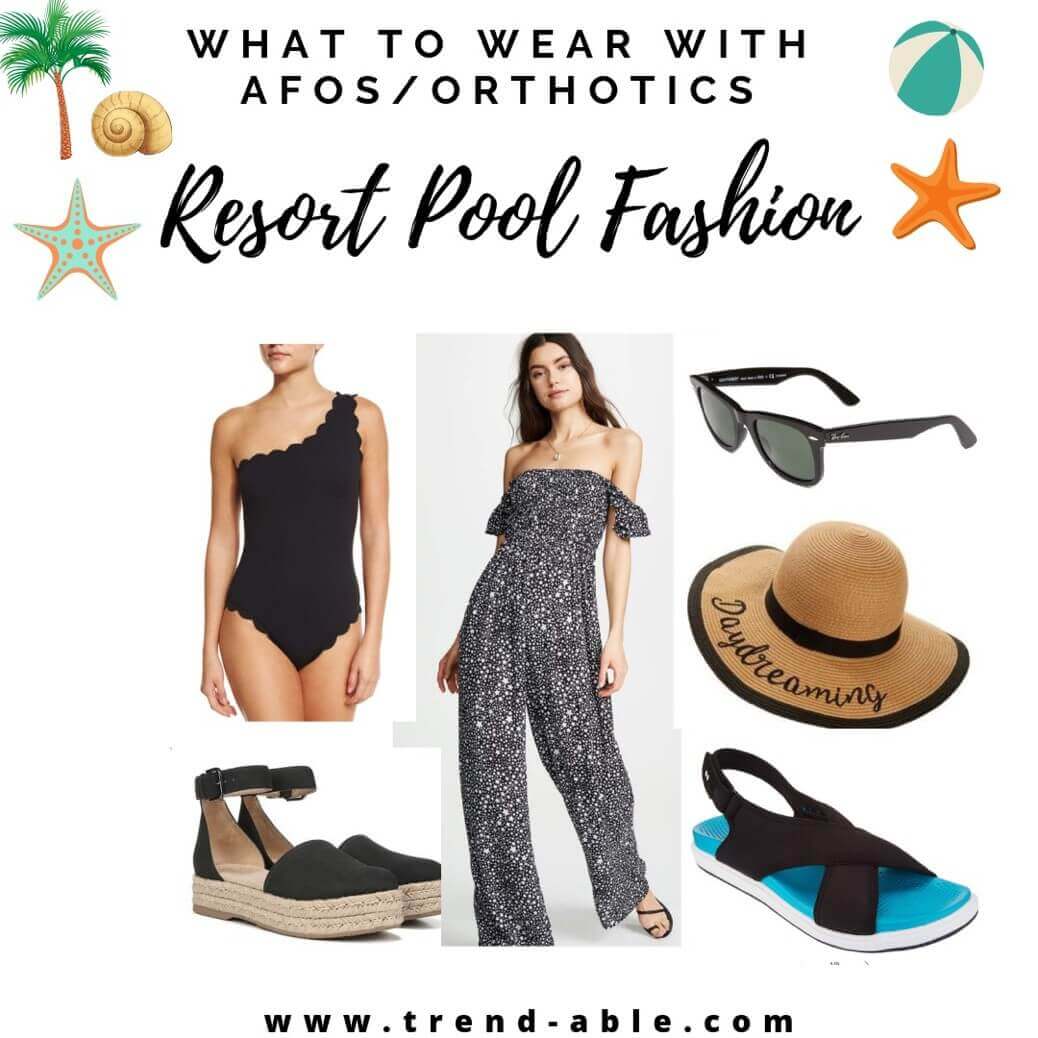 The resort wear looks shown above are for daytime wear in and around a beach or pool area. Since navigating pools with foot-drop and other disabilities can be stressful, I definitely want to look and feel great in the clothes I'm wearing. Btw, you may be interested in my best tips for navigating & enjoying resort pools with afos and an invisible disability.
So, what do you think of these resort wear looks? Are you going on a trip soon? I would love to hear from you in the comments section below.
And don't forget to join our Perfectly Imperfect Tribe in order to get our newsletter & look/good feel good calendar gift.
Xo
Lainie