I've had a love/hate relationship with shoes my entire life. Finding the best shoes to wear with AFOs has never been easy.
Long before I started wearing leg braces (AFO's), it was a struggle finding shoes that fit my high-arch, fused-ankle, drop-foot, callous-prone feet.
I remember the day I picked up my first pair of leg braces. You can read more about my history in the blog Skinny Jeans.  When the orthotist brought them to me in a clear plastic bag, I instantly burst into tears like someone first viewing a loved one's corpse in an open casket. I was scared to touch them.
When I caught my breath, my greatest concern came off as superficial. What the f### kind of shoes do I have to wear with those things?
That Orthotist probably needed therapy for PTSD (trauma) after his experience with me that day. When he brought in a catalog with a pair of bulky, fake leather, clodhopper shoes on the cover, I literally started screaming at him,
"Do you expect me to look like Fred Flintstone?"  "No f####ing way am I wearing those!"
I left his office (AFO's still in the bag) and didn't take them out again for another six months, when cleaning bloody knees from sidewalk falls became a daily thing. I moved out of denial and into typical solution-focused "Lainie mode."
As my leg braces evolved through the years, so has my ability to find stylish shoes that I can wear confidently. Today, it is so much easier as the trendy shoe styles have features people with hand and feet issues actually need. Here are 5 of my favorites: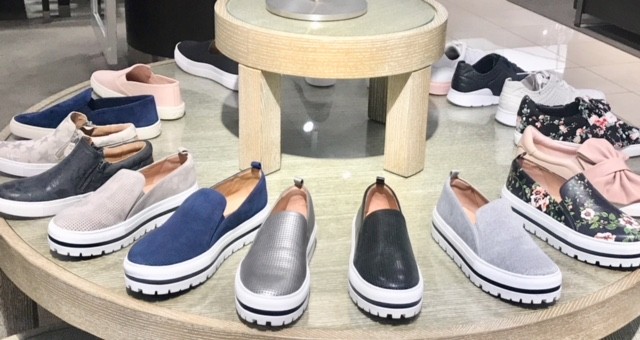 Sneakers of all types are cool. They are no longer reserved for mall-walking, city-commuting, or gyms. People can wear sneakers with anything and everywhere these days.
Brands like Nike and New Balance have a ton more competition as it seems like every designer and brand has its own line of sneakers. I mean, hello, even Ellen Degeneres has her own line of sneakers.
When worn confidently, sneakers can look just as great with jeans as they do when paired with a dress or skirt. The key is to look like you planned to wear sneakers and not that you have to wear sneakers.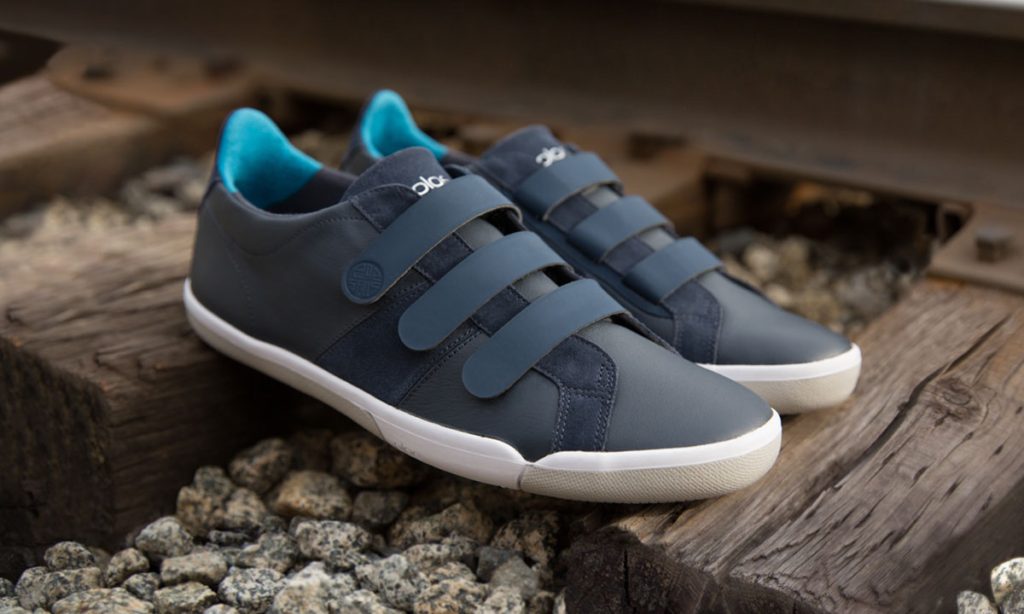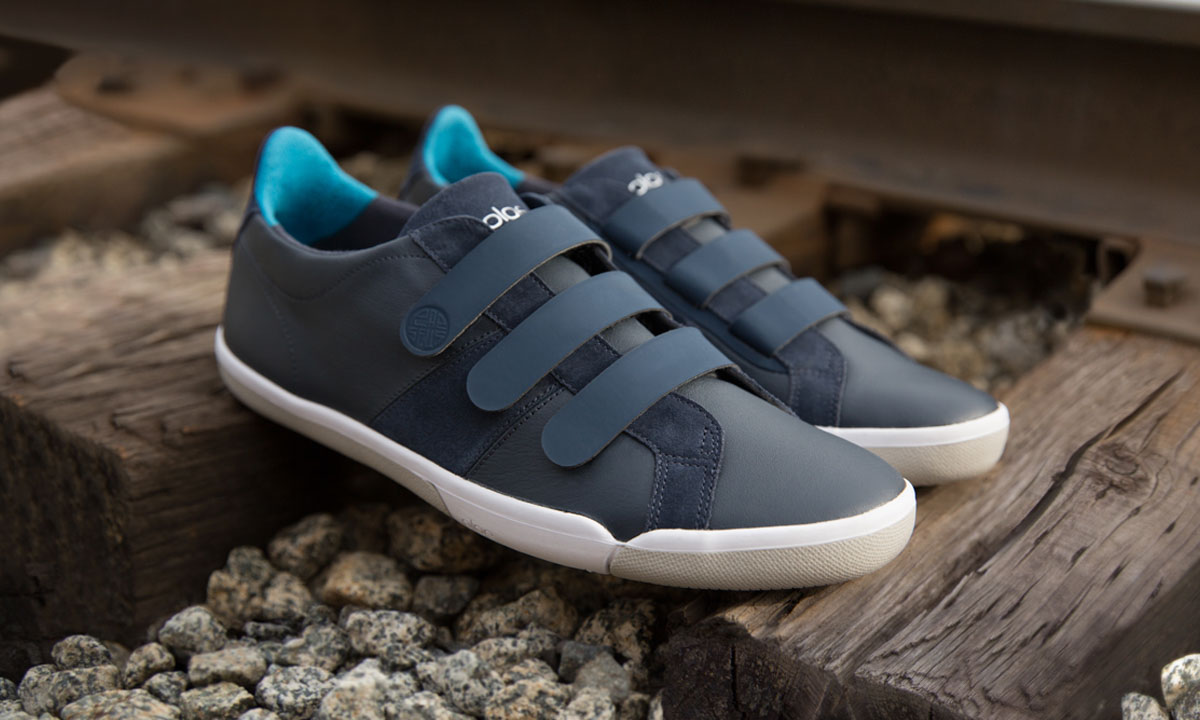 For those of you without access to a teenager or slang decoder, Lit means "hot" or "cool."
When I first saw velcro closures on shoes by popular designers, I wanted to jump for joy. I cant actually jump but I was REALLY excited.
This trend has been life-changing. Velcro shoes are no longer just worn by nurses and small children. People without hand or foot problems love the look and convenience of hook and loop closures. No more struggles with shoelaces for me.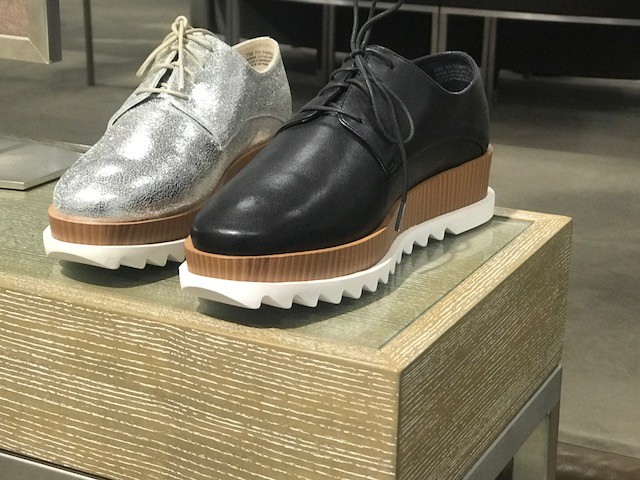 People who have foot and balance issues are experts in flooring material. If I walk into a restaurant and see a shiny painted floor, my heart starts racing, and I go into survival mode. My eyes are always scanning the floor for spilled water, baby pacifiers or any other foreign object impeding my path, causing a likely fall.
I was so excited to see that rubber non-skid soles are now everywhere and on everything from sandals and booties to party shoes. As they say (and my 14-year-old son came up with), don't forget the rubber!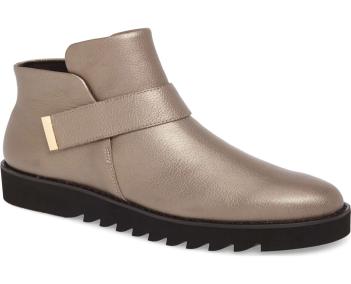 One of the hardest things to accept when you have foot and balance problems is the inability to wear heels. Heels, (or pumps as they used to call them in the 80's when my friends dyed them to match their prom dresses) are considered a necessity when dressing up, a no-brainer for able-bodied women. Heels make women look taller, thinner and sexier. Those of us who can't wear heels do not benefit from the illusion they give an outfit.
My life was forever changed six years ago when I discovered the Wolky, Jewel Sandal with a flat, platform sole. For the first time ever, I was walking comfortably in elevated sandals that made my legs look longer too. Since then, I have found even cuter platforms (only the completely level kind without a wedge) I can wear in any season. Here are some examples: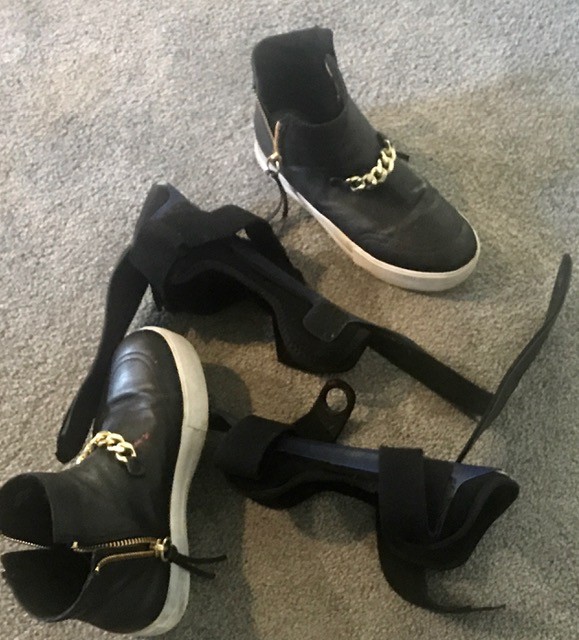 When you wear leg braces or orthotics, putting shoes on is a high-intensity workout. Even when you remove the insoles and buy a size or two bigger than your real size, there's just not enough room in the opening to shove it in. It doesn't help that both of my ankles are fused with pins, preventing any movement.
Like the struggle I have every summer, trying to get my kid's sleeping bags shoved back inside the tiny nylon bags they came in, I eventually (sweat dripping) forfeit the fight; cuz it ain't gonna happen.
This year, I saw a ton of cute hi-tops with zippers on each side. These hi-tops are not the Chuck Taylor style (I like those too) but rather, more grown-up, soft leather ankle boots that you can wear with anything.
In general, hi-tops are awesome for women with foot issues. Not only do they provide built-in ankle support, but if you want to wear trendy ankle cropped jeans, hi-tops conceal your orthotic/AFO.
Since laces are tough for me because of my fine motor issues and pull on style shoes are totally out of the question, I was bouncing off my chair with excitement when I found a pair of two zippers opening hi-tops with removable insoles.
Note that I do receive a small commission if you use links from this post to purchase. This does not cost you anything and helps me offset some of the website expenses.
Depending on when you are reading this, the exact shoes above may or may not be available. Finding shoes that work with orthotics and afos takes patience and trial and error. Try not to be frustrated and give up. Keep looking, be creative and of course, keep reading this blog ? You may find some of my other blogs about the best shoes to wear with afo leg braces helpful also.
Xoxo
Lainie