Trend-Able is about empowering people women with invisible disabilities and physical challenges with tips and tools to look and feel their best in order to live their best lives.
We may not be able to control our chronic conditions or disabilities, but we can control how we think about them and how we let them define us.
If you know me & have read some of my previous posts like, Seasonal Self-Pity Syndrome, you know that I'm not a fan of many of the chronic condition support groups. I find focusing on the physical symptoms of my condition to be draining and unhelpful.
These days, when I'm online and not working on the Trend-Able pages, (which is rare ) I follow positive people and perfectly imperfect bloggers who exemplify the Trend-Able mission of living your best life not defined by the things you cannot do or wear. I will be featuring several of these perfectly imperfect and inspiring women here in the coming months in an evolving list.
3 CHRONICALLY AWESOME BLOGGERS TO KNOW
 

1. Jessica Marie, Eyeliner & Empowerment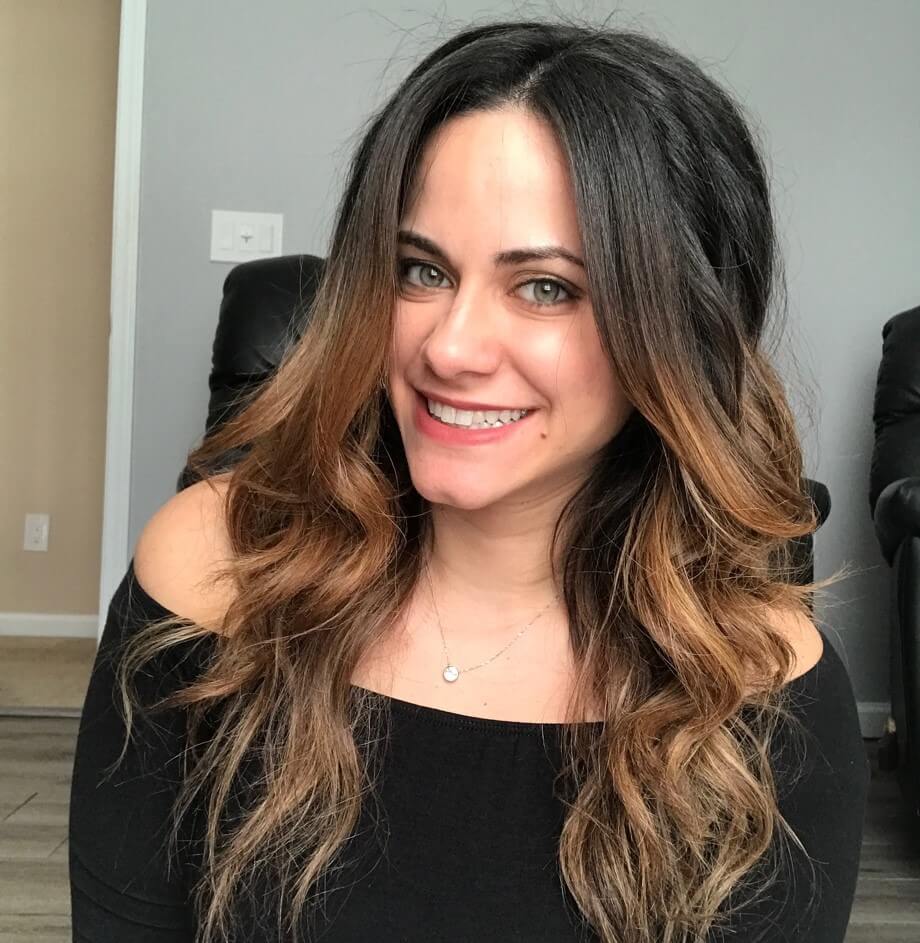 Jessica is a 20 something blogger/vlogger with Cerebral Palsy who lives in Georgia with her fiance and their dog, Harley. Given Trend-Able.com's mission of helping people to look and feel their best, it isn't surprising that Jessica was one of the first bloggers I connected with after launching the website last year. After all, I am EXTREMELY pro-eyeliner and empowerment.
Jessica isn't afraid to put herself out there in order to help others living with CP cope with the issues she once struggled with.  She says, "If you looked at me in a crowded room standing there you wouldn't notice it… but the minute I take a step you see it…the limp…the limp that I have dreaded and hated so much in my life…No, I didn't get into an accident….I have Cerebral Palsy.. and yes, that is a disability and no, don't feel sorry for me."
Jessica uses her bubbly personality and positive outlook on life to help others living with CP.  She gives daily living tips, product suggestions, and advice on dating and other relevant topics. Jessica's Youtube video, "Life Hacks for Living With CP", offers some great tips for anyone living with physical challenges. You can see it here.
When asked about her personal style, Jessica says, "I had to learn to love and rock my sneakers with all of my outfits…In my opinion, there is nothing cuter than a black tee shirt dress and Adidas sneakers." Jessica's personal motto, "You can still live a beautiful life with CP, just maybe a little different."  Jessica's website and other social media channels are great to check out.
 2. Stephanae McCoy, Bold Blind Beauty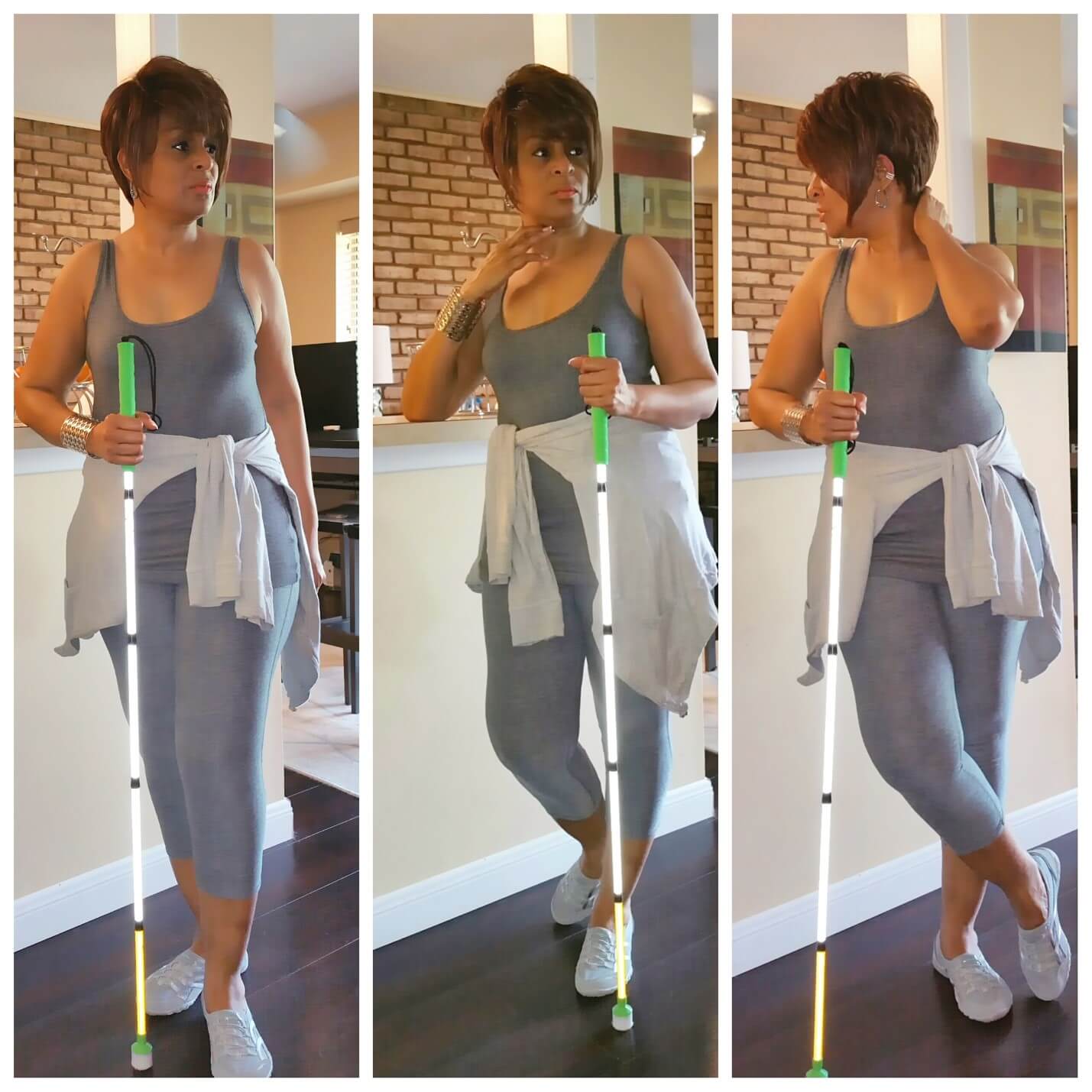 Stephanae McCoy is a blogger, style setter and abilities crusader who wants the world to know that you do not have to be able to see in order to live fashionably.
Stephanae created her blog, Bold Blind Beauty, to "improve humanity" by "changing perceptions of the blind and visually impaired community….Blindness is not always obvious….For us to transcend barriers we must change the way we perceive one another. " Bold Blind Beauty seeks to break down barriers and help society as a whole understand that blindness is just another way of seeing." In order to achieve this mission, Stephanae developed a fictional character named Abigale (Abby) who serves as her alter ego on the website.
Abby is a "fashion icon extraordinaire" who walks confidently through life holding a bright white cane. She's like your site-challenged best friend who has your back and gives you awesome beauty and fashion advice.
You can join Abby in "Abby's Corner" where discussions are always about fashion, style, and being bold, blind & beautiful!  You can even buy some of "Abby's Swag" in her online store, where 10% of all profits are donated to organizations who work to improve employment opportunities for people who are blind & visually impaired. I really enjoy Stephanae's and Abby's website.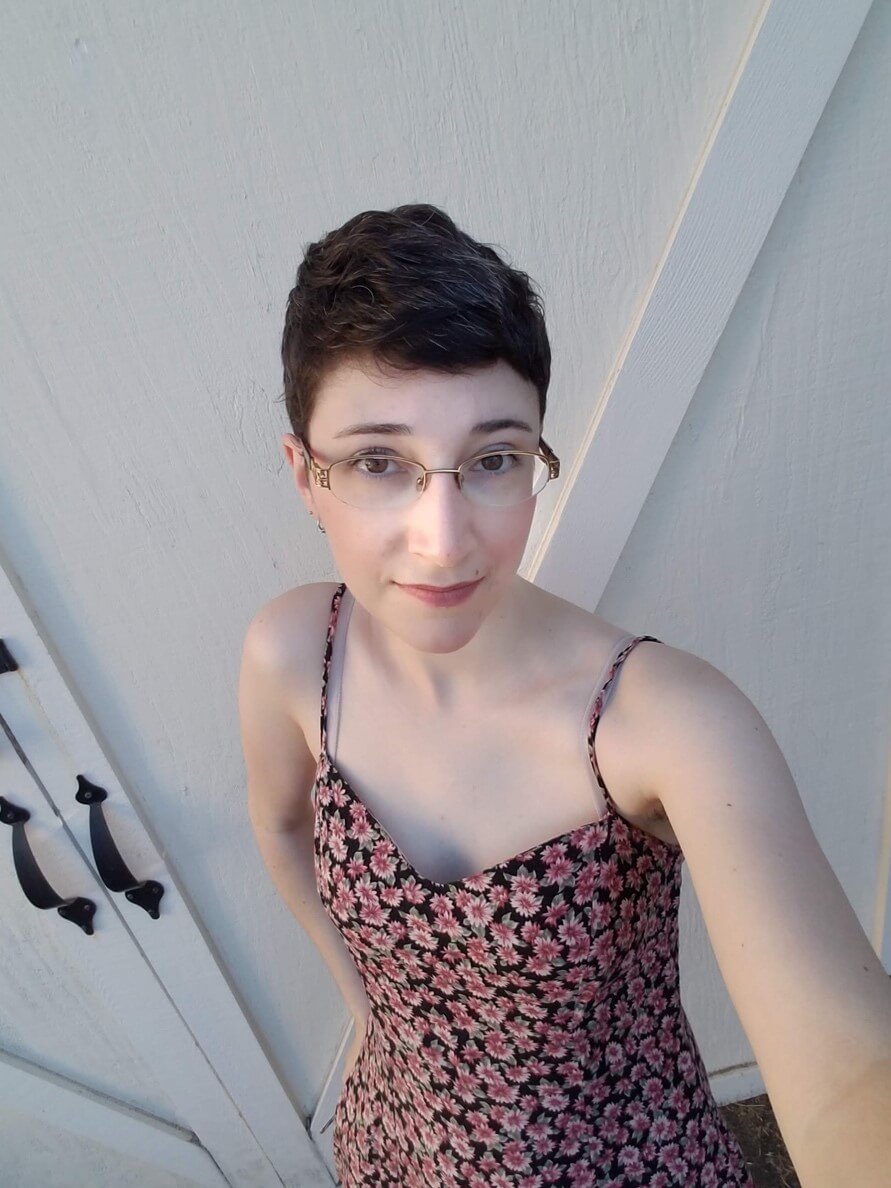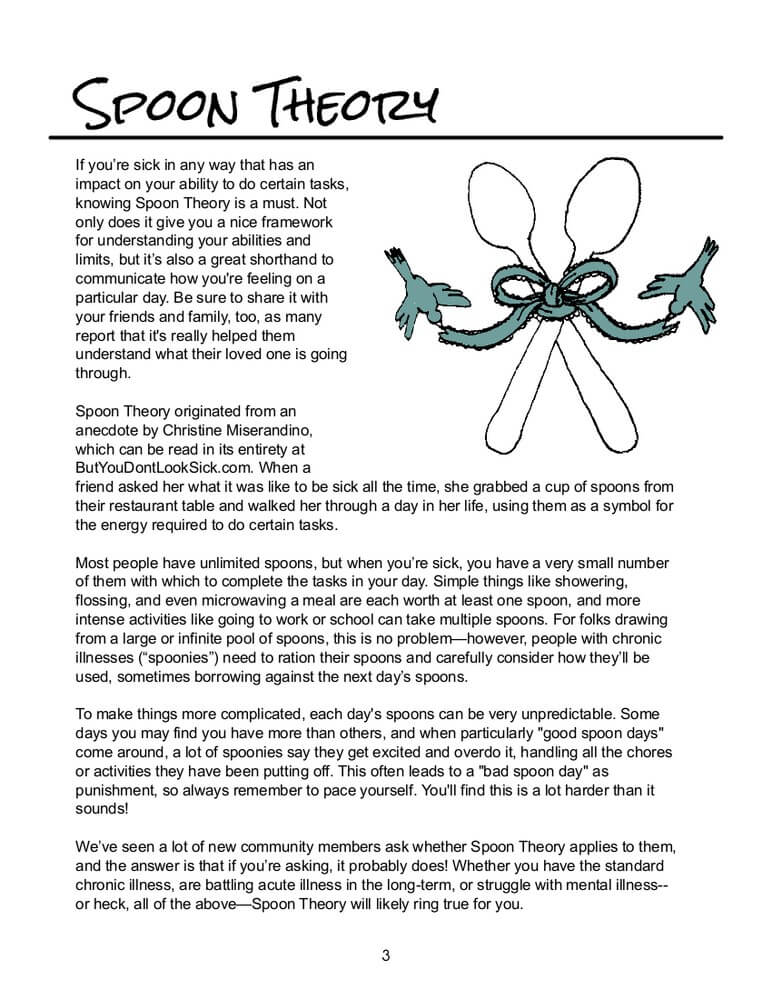 I am in awe of all the young people (omg, just saying "young people" makes me sound like a grannie) I encounter with chronic conditions who have their sh#! together enough to do advocacy work, maintain a blog and take care of their daily health challenges.
28-year-old Diane is the founder of Spoonie Living, a lifestyle blog à la Martha Stewart Living for people with chronic illness and/or disabilities who choose not to let their health problems prevent them from living an awesome life.
The spoon theory is a way of describing the experience of chronic illness and its limitations using a metaphor of "spoons" as a unit of energy. It was created by Christine Miserandino, who describes it in her own words.
Diane's website, Spoonie Living, offers spoonie relevant advice, product reviews, life hacks, and inspiration. She offers a toolkit for the young and newly diagnosed in a free download (donations appreciated) called, "Chronically Badass: A Guide For The Young And Chronically Ill."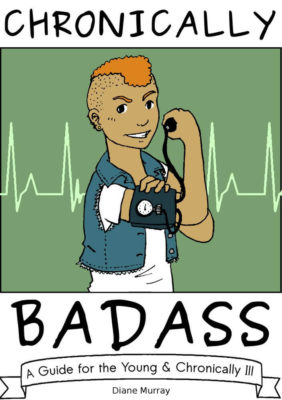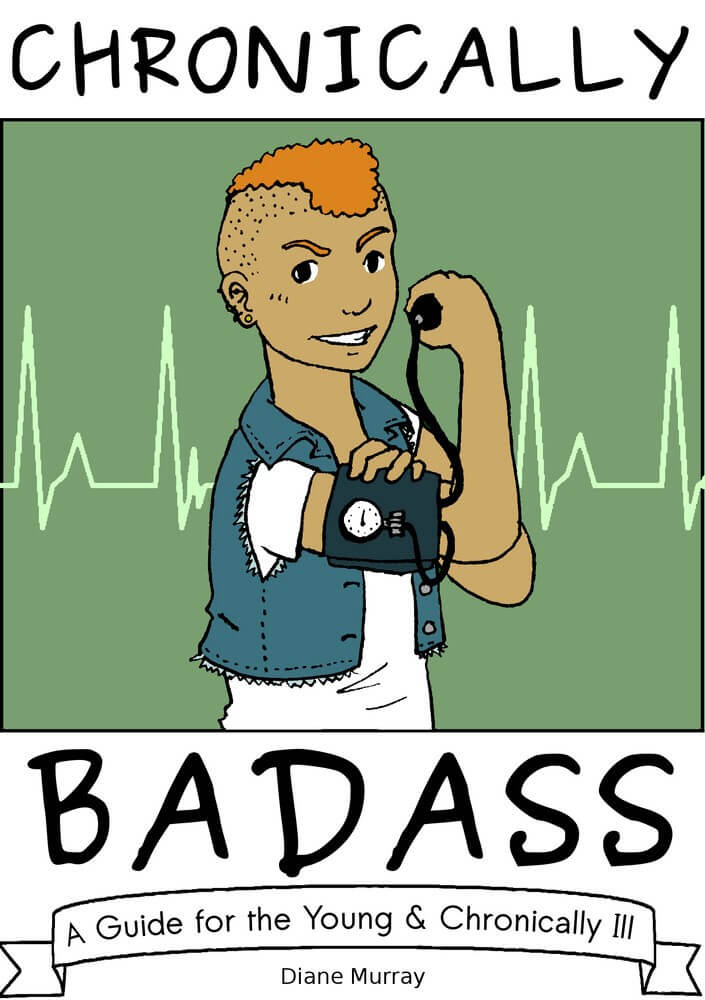 In addition to Spoonie Living, Diane created the Accessible Activism Checklist to help address the fact that many organizations do not consider accessibility needs when planning events. Diane says, "Disabled folks are everywhere, but so often left behind in activist action…When you make your activism accessible to disabled folks, you create a better space for everyone." .
Since Diane has to wear compression socks, arch supports, and braces occasionally, She tries to input style where she can. For example, her wrist braces have a patterned band she made to hold the velcro in place.  Diane has a few different go to looks. Her every day "low maintenance look", consists of mostly ripped jeans, tees and sweaters. Her "sick day chic look" includes tees that make her smile, "good socks", and comfy sweats. And, her,  "I wish I could do this all the time look", is all about floral prints, skirts, stockings, cute boots, cute socks, full makeup, and jewelry." 
While there are many "Spoonie" bloggers, I am impressed by the quality and wealth of helpful information available on Diane's website."
Do you know an inspiring person with an invisible disability who you think fits the Trend-Able mission? Someone with style who lives their life not defined by her disabilities and limitations? I welcome any and all suggestions.
As always, thank you so much for reading, commenting and sharing.
Xoxo
Lainie