If you're a makeup & skincare junkie, than you've probably heard of the brand Beautycounter.  It seems like every Instagram Influencer (& their mothers) have been touting the awesomeness of Beauty Counter's line of clean skincare & makeup products for years & I'm arriving late to a really fabulous party.
So about 6 months ago, a friend invited me to attend a "clean beauty pop-up event" at her house. Although I'm not a big fan of most direct sales type businesses (wine, homemade cookies, & mom bonding used to camouflage pyramid schemes), I went to support my friend. Plus, since many of my perfectly imperfect tribe members on Trend-Able are limited in their skin care choices due to various chronic conditions, I wanted to learn how Beautycounter products are different. I had written a post on Adaptive makeup tips and even did a podcast on the subject with Jessica Ruiz, a makeup artist who has no use of her hands and applies makeup using her mouth.
So when the Beautycounter Consultant began talking about the ingredients used in most brands sold at Ulta & Sephora (many I used daily), I kinda threw-up a little in my mouth. Although I'm not so much the, "has to be organic" and "no processed food", type of person (my freezer's full of Lean Cuisines), I was pretty grossed out by what I heard.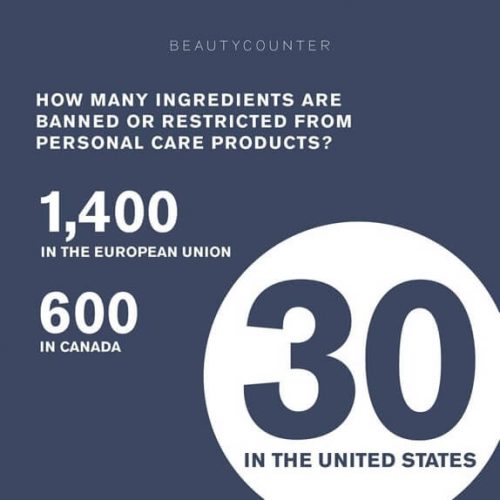 According to the Huffington Post, the average woman unknowingly puts 515 synthetic chemicals on her body every day. How is that even possible? Well, for starters the U.S.A. has only banned 30 known toxic ingredients, whereas Europe has banned 1,400.
Although there is increased awareness these days & things are definitely improving, the cosmetic industry is still unregulated when it comes to product safety. In fact, companies do a lot of greenwashing (when a company spends more money on marketing themselves as environmentally friendly than on minimizing their environmental impact).
Basically, you think you are buying a safe beauty product because it's labeled natural, but the reality is that not all cosmetic and skincare ingredients are safe for your body.
WHAT'S DIFFERENT ABOUT BEAUTYCOUNTER?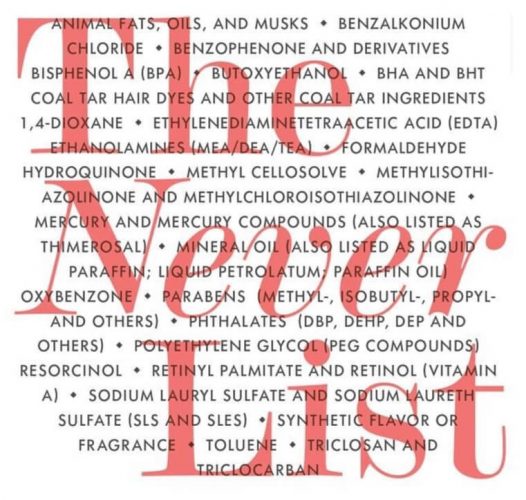 Beautycounter bans 1800 questionable or harmful ingredients (called The Never List™) in its product line known to cause health issues. Some natural cosmetic brands use only 100% organic ingredients. This is as pure as makeup can get, but often, the performance is lacking. While Beautycounter uses both synthetic and organic ingredients, they never compromise on the safety of the ingredients.
Beautycounter has developed a groundbreaking and rigorous ingredient screening process, looking for data on skin irritation, carcinogenicity, reproductive toxicity, cumulative exposure and more. Their five-step ingredient selection process is unparalleled; using the EWG's Skindeep Data Base (the go to resource for product safety), every single ingredient is screened and assessed against 23 safety endpoints.
BUT DO THE PRODUCTS REALLY WORK?
Beautycounter  is just as dedicated to product performance as they are to product safety. Meaning, they actually do what they say! They are definitely comparable (some even better) to the luxurious brands I used to use – with the added bonus of being void of all those nasty chemicals I didn't know I put on my body.
At 49 years old, my skin has never looked better!  I've been using Beautycounter products consistently now for about 6 months & I want to share some of my favorites. Here are the products I use daily . You can click on the photos to learn more & purchase directly on the Beautycounter website using my embedded affiliate links. The small commission I receive when you purchase something is not gonna make me rich, but it does help to offset some of my website expenses.
I love this set that includes an amazing Cleansing Oil, Mineral boost hydrating essence, Tri-peptide radiance serum, an Antioxidant Day Cream, and the Tetrapeptide Supreme PM Cream. I'm also obsessed with the best-selling Overnight resurfacing peel, (it tingles a bit & lets me know it's working) and the Lotus Glow Cleansing Balm which I use along with extra long cotton swabs to clean-up all the smudges & mistakes that my neuropathy hands typically make.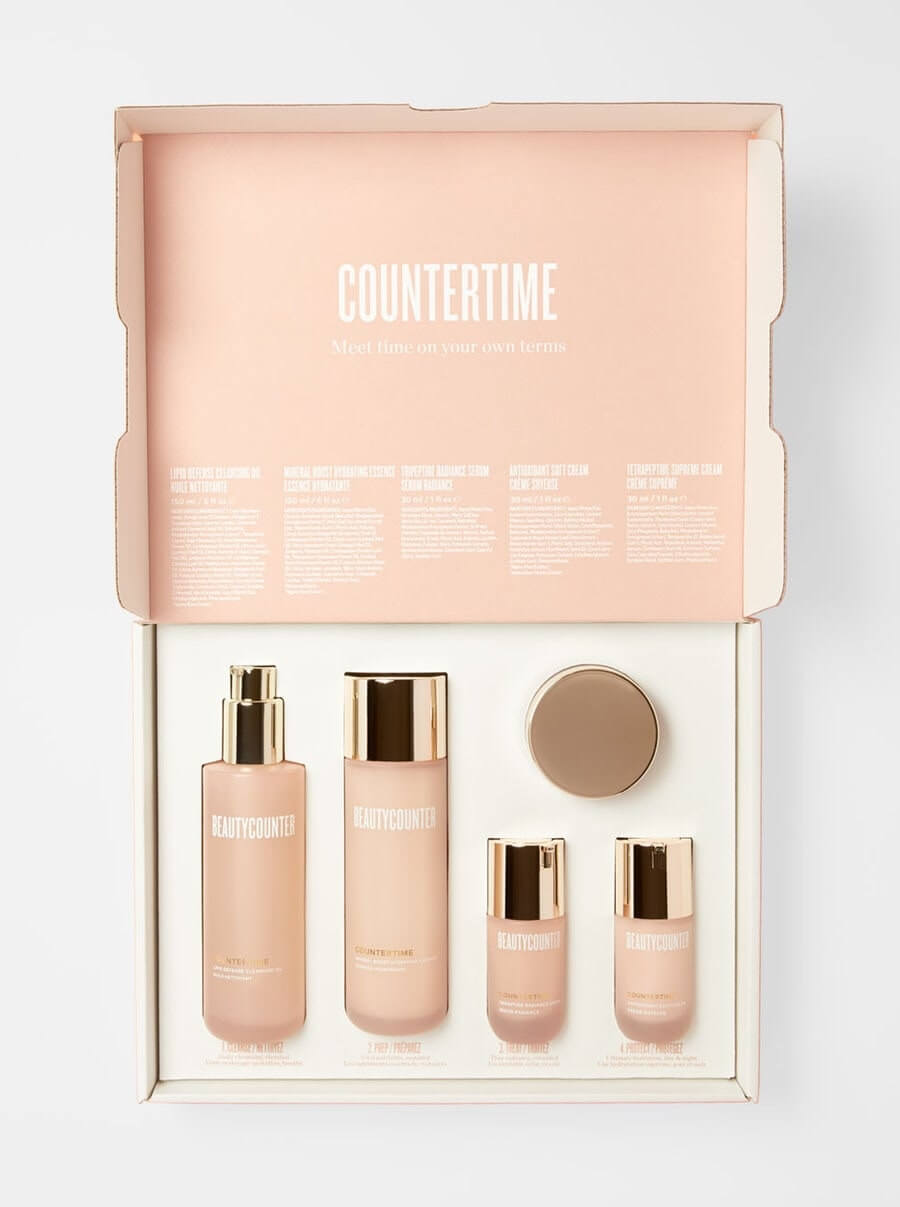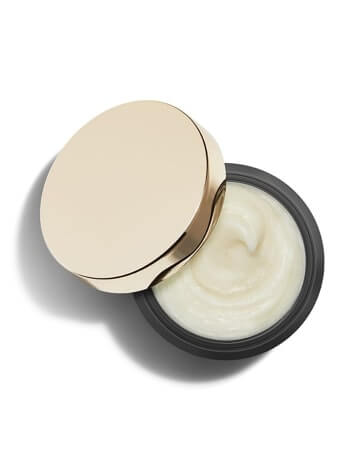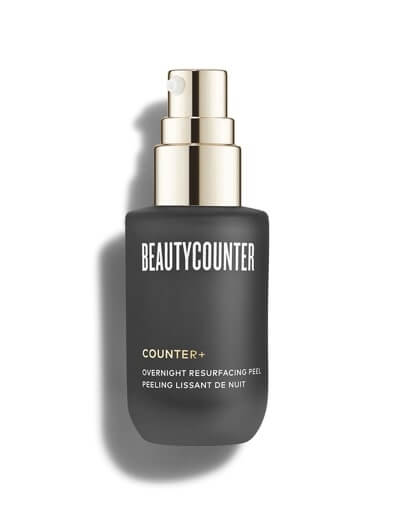 The products I use focus on anti-aging (I am pro-aging, just not pro looking old) and I use Beautycounter's highest end, Countertime skin-care line. BeautyCounter does sell other skin care lines focusing on moisture repair, acne prevention & men's skin care needs.
Beautycounter also has amazing makeup products. A lot of my, not so comfortable with makeup friends purchased the Flawless in Five set and love it! I like makeup too much to limit myself to just one brand, but I am using & loving this Get The Look 4 Piece Set which includes an eyeshadow palette (I picked The Romantic), a bronzer, extra long (easy to hold) eyeliner pencil, and a lipstick.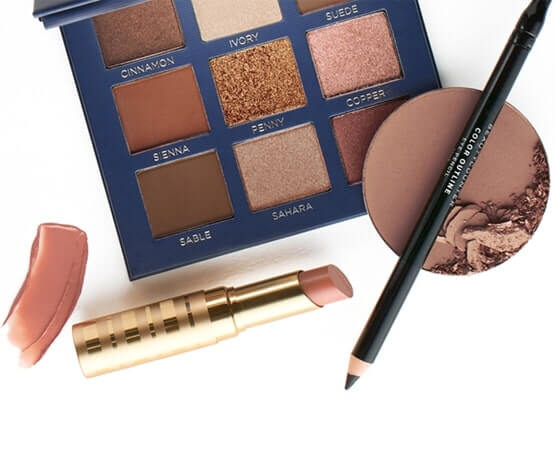 Have you tried Beautycounter? What are your favorite products? I would love to know if you love it too! Please let me know in the comments section below.
Xoxo
Lainie
PS. They have a great return policy