I'm pretty sure fall gets the "favorite season" award for people living with chronic conditions and disabilities. Personally, my body just works better with pumpkin spice lattes, crisp (not too hot & not too cold) air, and the return of all my favorite tv shows.
Of course, one of the best parts about fall as a leg brace (afo) wearer is that there are way more fashion and shoe options for afo's to choose from. I love that after a long hot summer in pants & maxi dresses, I can finally show a bit of leg by pairing short dresses (not too short) with tights and a fab pair of tall boots. If you want to learn how to wear tall boots over afos, check out my post, Finding Mr. Right Boot.
If you wear bulky afos or skinny jeans just aren't your thing, you'll be happy to know that this season they are also showing a ton of boot cut, flare, and straight leg styles of denim.
I love wearing ankle length jeans with frayed/raw hems with hi-top sneakers and booties. Check out my post, Not your Grandma's orthopedic shoes post to see cute Afo friendly sneakers. Also, learn how to fray jeans the easy way. 
When it comes to denim, I look for mid or high rise jeans (the extra coverage is like a built in Spanx) in a super stretchy poly, cotton and lycra fabric. I like my denim really soft like leggings. I look for slim, straight leg styles of denim that are flexible enough to stretch over my leg braces but not so tight that they hug (and show) the outline of my brace. Slide and click on the links below to shop more Afo friendly denim:
DISABILITY FALL FRIENDLY ACCESSORIES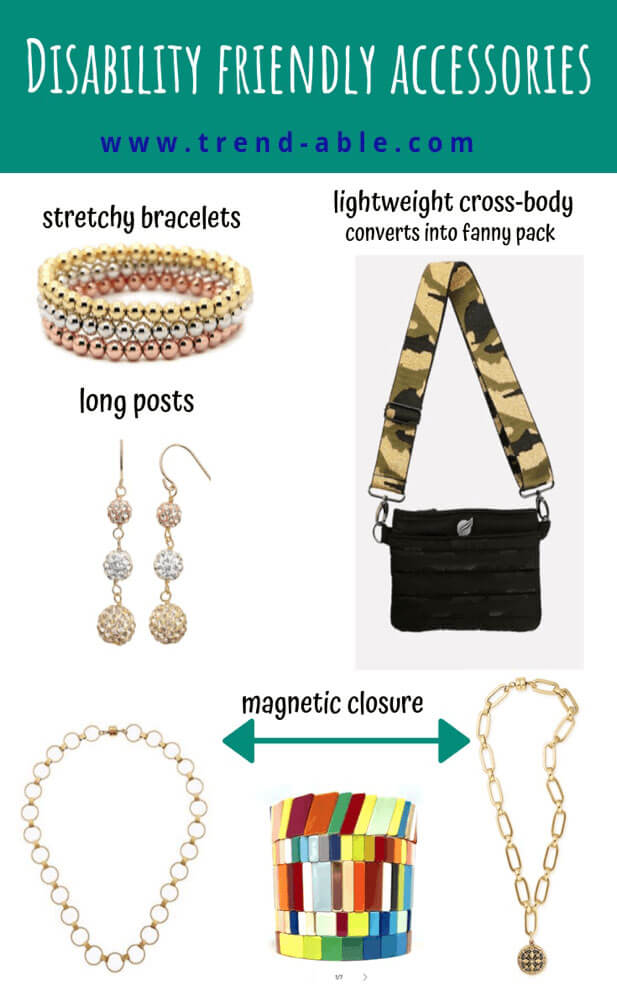 I love accessories as they add personality to any outfit. Since my hands (due to neuropathy) have tremors & little to no pincher grip ability, it's not easy (a total understatement) for me to put on jewelry with clasps and tiny backings myself.
I've added magnetic closures to most of my fine jewelry (which I describe in my DIY Adaptive Fashion Post) but it's exciting when I discover awesome necklaces & bracelets with magnetic closures already built in. Slide and click on the links below to shop disability friendly accessories: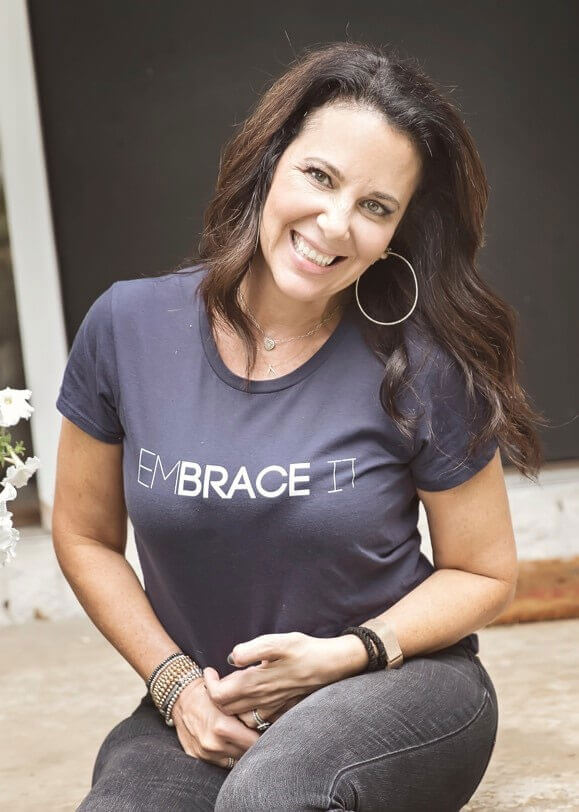 My everyday go to accessories are my 14k gold filled ball bracelets. I have about 15 of them in various sizes that I stack on my wrist. But I'm currently obsessing over some stackable acrylic tile bracelets & my super cute convertible belt bag/crossbody purse. Click on the links below to shop:
Wide-Width Afo Friendly Booties
Now for the fun part, or not so fun part, if the act of trying on shoes gets your heart rate well into the cardio zone. I typically look for a hi-top sneaker or bootie (ankle high boot) in a wide or extra wide width with a non skid sole. If a shoe is available in an extra wide, I do not have to size up to wear it with my afos.
Depending on the shoe, some regular width booties work when they have removable footbeds and a wide enough opening. I look for ones with zippers or adjustable velcro. There are a ton more tips for wearing shoes with afos in my post, The Best Hacks for Afo Wearers.
Here are some of the cutest Afo friendly booties & hi top sneakers out this season. Slide & click the links below to shop:
What styles of denim & booties are you falling for this season? What do you think of my picks? Please let me know in the comments section below! Happy Fall!
Xo
Lainie