A Note from Lainie:
If you are looking for best shoes for footdrop, there are several brands mentioned by Rebecca below. I have updated the styles that she originally mentioned with styles and links. For other shoes that work people with more severe footdrop who require an afo and/or orthotics, there are many posts about cute shoes and boots to fit afos like this one.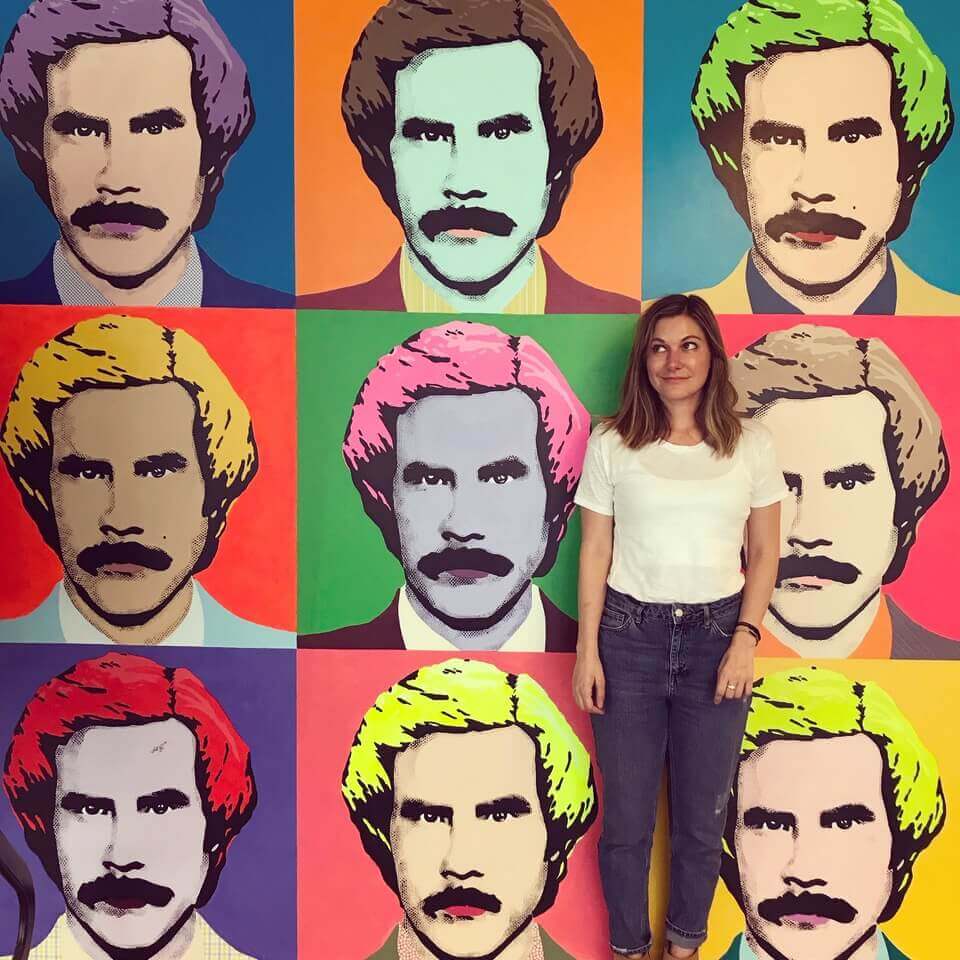 Meet- Rebecca, a perfectly imperfect woman who inspires! She has Charcot Marie Tooth Disorder, a slowly progressive neuromuscular disorder that affects the peripheral nerves.
Rebecca is 33 and works as a television producer living in Los Angeles. She grew up in Hershey, PA where her family still resides.
After graduating from the University of California, Santa Barbara, she moved to LA to pursue a career in entertainment. She traveled the country working on shows like American Idol and The Voice before shifting into comedy. She most recently worked as a producer on Comedy Central's @midnight with Chris Hardwick and for Funny or Die.
When she's not working, she's traveling – she has visited 31 countries and counting!
Q & A With Rebecca
How did you know you had CMT? When were you diagnosed and why?
My mother, my aunt, and my uncle all have varying degrees of CMT. They inherited it from their father, but he passed away before I was born. One of my uncles is not a carrier.
Out of their eight children, it was only one of my cousins who seemed to inherit the disease. She started developing symptoms in her early 20s, just like my mom, aunt, and uncle. I assumed I was in the clear since I was already in my late 20s, but then one day I discovered I couldn't go on my tip toes anymore, and suddenly I realized I couldn't deny it any longer. I had CMT too.
Maybe I could have figured it out a little sooner but to be honest, I didn't want to believe that I was affected. We didn't talk much about the disease when I was growing up, and I don't think I realized there was a 50/50 chance I'd develop it. I was a dancer – tap, jazz, ballet, pointe – until I was 18. In my 20s I liked to run, hike, bike, and wear heels. I was vain and cared about how I looked and what I wore.
Then at 29, I took a job in New York City at the start of winter. I believe it was a combination of the cold weather and the uneven sidewalks that exaggerated my walk and made my hand movements more difficult. I struggled to button my coat, zip up my pants, scan my Metro card, and walk in boots that weren't flat. A stranger on the street once asked me if I was okay because I was limping, and that's when I was first inspired to find out everything I could about this disease.
What are some of your current physical challenges?
My ability to balance is fading quickly. I can't go on my tip toes, so reaching for something on a shelf is impossible without a ladder or climbing onto the counter, which I do all the time. My shoe options are increasingly more limited; two years ago, I was still able to walk (carefully) in high heels, but that time is gone. I mostly wear booties (approx. 2" heels), sneakers, or sandals. I do have a pair of 3" wedges and 3" heels for weddings that I can walk in, however, I cannot balance in them when standing still. I have to lean on a table or a friend.
Regarding my hands, I struggle to tie a shoe, I can't put bobby pins in my hair anymore, and it takes about 15 tries to put on a necklace or earrings. Sometimes I grow frustrated and give up; other times I power through and get it done.
I really enjoy working out and because I'm determined (or stubborn), I refuse to give up my favorite classes. I'd like to think it keeps my muscles strong but perhaps it also makes me more prone to injury. I take Barry's Bootcamp classes, which consist of 30 minutes on a treadmill and 30 minutes of floor work. I can't run very fast, and it's not pretty or graceful, but I don't care because after class I feel incredible. If it's legs day I can't do the lunges like everyone else in class – I'll either find a pole to help me balance or I modify. I love spinning because you're strapped into the bike, and I enjoy Pilates because it challenges my foot muscles in different ways.
I used to spend a lot of time at the beach, but walking/standing on the sand is difficult, so I rarely go. I also had to give up biking outside because my legs are short and the only way I can stop at a traffic light is if I'm able to put my foot flat on the pavement. It's a struggle in traffic, so I just avoid it now.
What's harder for you, the physical or mental part and why?
I think at times they go hand in hand, and when it does become mental, it's a direct result of a physical struggle or embarrassment. I hate not being able to wear the shoes I used to wear and seeing my calves deteriorate knowing there's virtually nothing I can do about it. I am self-conscious about the way I walk, especially when I'm at work or a social function and I have to walk through a crowd of people.
What has changed about your life since being diagnosed with CMT?
Honestly, I live my life the same way I did before; I'm just more aware of my limitations with certain physical activities. I've adapted to accommodate these limitations while still pursuing what I love, both in work and with hobbies. I've complained enough about not wearing heels anymore, so aside from wardrobe tweaks, it's purchasing hiking sticks, saying no to a snowboarding trip, or turning down jobs I used to do that require me to stand on my feet for 8-12 hours a day, like red carpet events.
I also make time for physical therapy because one of the hospitals in LA specifically caters to CMT patients. Why not do everything in my power to maintain the strength I currently have? If I can't squeeze in an appointment I make sure to do the exercises at home with a resistance band, testing my balance, stretching, and using a finger/stress ball I ordered on Amazon, while I watch TV at night.
How do you cope with or accommodate not wearing heels to Hollywood events where it's expected? Fashion tips?
This is one I struggle with. I used to work a lot of awards shows on the weekends, helping out with the red carpet pre-shows but they require a specific dress code, inclusive of "black closed-toe dress shoes." The last two years I insisted I could still handle it, but even with my go-to 2" booties, it was still a struggle to hustle up and down the red carpet without tripping on the carpet, let alone on the long dress I had to wear.
More and more I'm opting for comfort over fashion, so unless I can wear nice sneakers or flats, then it's not worth the stress. Those jobs were more exciting at 23 than they are at 33 anyways!
I still have some shoe options that work for a dressy function, but the higher the heel, the more sure I have to be that I'll have a date or a tall cocktail table to lean on. I also plan ahead for the type of floor at the event. I once went to an event that I assumed would be inside, and the entire thing was outside on uneven stone, and I couldn't enjoy myself because all I could focus on was not falling over.
Eileen Fisher makes the cutest, most comfortable shoes, I swear it's as if one of their designers is crafting them with us in mind. They're not cheap, but I definitely get my money's worth because I wear them all the time. I have two pairs of her sandals like these, one in black and one neutral, so they go with everything.
Do you have a favorite book? Favorite quote?
I just read The Alchemist by Paulo Coelho for the first time last year, and it's now my favorite book.
For my birthday, a friend got me (apologizing in advance for language!) The Subtle Art of Not Giving a F**k by Mark Manson, a fellow blog writer. I loved this book because of his candidness and valid points about deciding what's worth our energy and what we shouldn't bother stressing about, such as the things we cannot change about ourselves.
Current source of inspiration:
"If you can't fly then run, if you can't run then walk, if you can't walk then crawl, but whatever you do you have to keep moving forward." – Martin Luther King Jr.
What's one item you wear that boosts your confidence?
High waisted flare jeans (usually with the booties mentioned above and a tucked in tee shirt).
Oh! And Nars Jungle Red lipstick, no matter what I'm wearing that always provides a confidence boost.
Want more from Rebecca? Click here to read her guest post about dating with an invisible disability!