Note From Lainie:
There are many amazing people living with invisible physical disabilities who follow the Trend-Able social media pages who inspire me and others to live our best lives. One of these individuals is Tina Trahan. Tina made a comment a few months ago on one of my Facebook page posts that sparked my curiosity and prompted me to private message her for additional info. After hearing Tina's unbelievable story, I was blown away as it reads like both the best and worst Hallmark Christmas movie ever. Tina is a true warrior and her resilience and positive attitude can serve as a reminder to us all to be grateful for our here and now.
WHY I'M GRATEFUL TO HAVE CHARCOT MARIE TOOTH DISEASE
December 21, 2015 is my CMT diagnosis day…. I currently have significant muscle atrophy in my calves, lower arms, and hands, muscle fasciculations throughout my body.  I have bilateral foot drop.  My toes no longer support my body and are painfully beginning to claw.   I am currently on my second set of AFOs which are cumbersome and incredibly uncomfortable. I am grateful for this disease, and I was grateful for this disease on diagnosis day. Not grateful in the sense that I wake up every morning to sunshine and birds singing celebrating the fact that I have a chronic illness.  But I am grateful that I am here and GET to wake up every morning. Today, I am stronger both physically, mentally, and spiritually than I was three years ago prior to my CMT diagnosis.
Here's my story.  In 2015 I had been working as an admissions coordinator for a skilled nursing facility. I enjoyed my job for the most part, was good at what I did.  I worked very hard, long hours and gave it my ALL. Unfortunately, My ALL came at a cost…my health. I was experiencing severe anxiety, heart palpitations, hot flashes, muscle spasms, migraine headaches, loss of balance.  I could no longer wear heels which had become my staple.  I was beginning to walk slower with a funny gait, was no longer able to run or jump; and the stress in my neck was so severe that I bent the acupuncturist's needles and no amount of physical therapy could give me relief. During this time, I was seeing a rheumatologist who was unable to diagnose me and eventually referred me to a neurologist. I knew that this amount of stress was not healthy for my body and I needed to change my lifestyle. I no longer wanted to work to live nor did I want to live to work. I had a beautiful new grandbaby that I missed terribly and a neglected husband and family.  So I did what any sane person would do.  I quit my career and fulfilled my life-long dream of owning a coffee shop.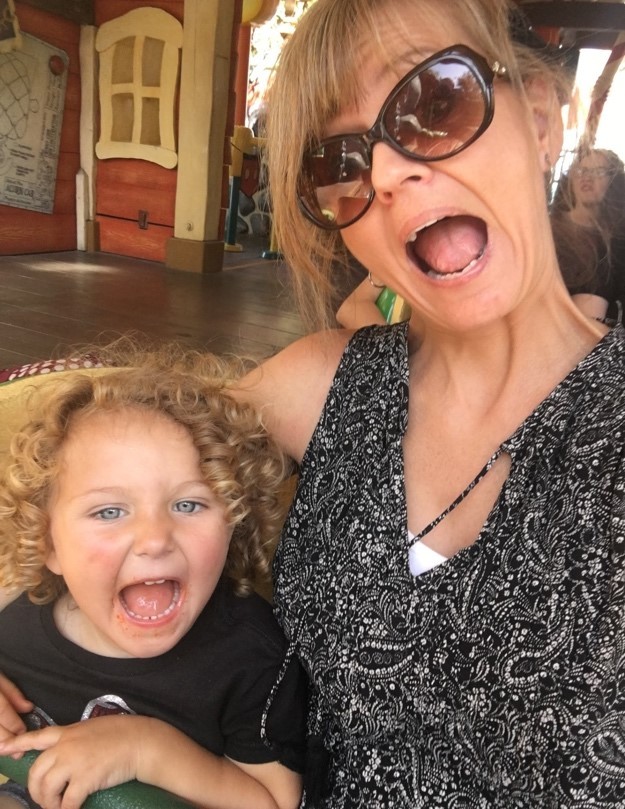 March 1, 2015, I bought a little coffee shop and having absolutely zero experience as a business owner or even a barista…I once again put my ALL into this dream only this time knowing that this was what I was meant to do and that my life purpose was finally going to be fulfilled. This was our family business run by my oldest daughter and myself as my grandbaby greeted customers and slept to the lullaby of blenders, coffee grinders, and steamers. I can honestly say that coffee was my passion!  Long before I even bought my shop, I knew I was destined to own a coffee shop! I didn't mind waking at 3:00am and working sometimes until 7:00pm.  I LOVED meeting the people in our community, fundraising for local causes, meeting new people from all over the world and hearing their stories of where they had been, where they were going, and what brought them to our little town. I created friendships with strangers who just needed someone to talk to or a listening ear and bonded with customers through laughter and even sometimes tears. Every morning I prayed over my shop before I opened and put out what I called my "Whiteboard of Affirmation" with an encouraging quote and a fun fact.  Little did I know that my customers would be the ones encouraging me and lifting my spirits after a devastating diagnosis.
May 2015 (I don't even know the specific date)  I was told by my second neurologist that I have Amyotrophic Lateral Sclerosis, ALS for short, and also known as Lou Gehrig's disease. I knew of this disease because my husband who is a Police Officer had just completed the "Ice bucket challenge" (Just so happens May is ALS awareness month). Let me just say that I was and still am a believer in God.  I had been told on many occasions that things happen for a reason and God will never give you more than you can handle. I knew God as my personal savior. I felt the presence of God's Holy Spirit.  I knew that Jesus died on the cross for my sins.  But I did not understand the reason I was chosen to be the carrier of this disease. God got this one wrong.  He gave me more than I could handle. My husband and I left the neurologist and we just sat in the parking lot while I cried out,"Give me cancer!   At least with cancer there's a chance of survival!"  There was zero chance with this diagnosis.
Here's the thing.  When you are a business owner, you do not have paid time off or the luxury of calling in dying.  So after two full days in bed, I decided that I had a coffee shop to run and customers.  As trivial as it may seem, they needed their coffee! Little did they know. I needed them as well! If there were an Oscar for Best Fake Performance EVER, it would have been awarded to me because I put on an excellent performance of bravery telling my customers, family, and friends that I was going to beat this.  I knew full well that nobody in the history of ALS had ever beaten this life altering disease! On the outside I was the epitome of positivity, I was a warrior! However; on the inside, I was not. I was vulnerable, scared, weak, hopeless, sad, mad…
Here's what happened to me during the months after this diagnosis.  I died. I died physically.  I died mentally.  And I died spiritually.  A little quicker and a little more each day. I was physically, mentally, and spiritually drained and I had given up. At this point, I knew It was time to sell my Coffee Shop.
October 1, 2015 my dream was sold to someone else and I went home and waited for my body to betray me. With what little strength I had left, I cuddled with my granddaughter, I read her books, we took naps together, I wrote her love letters and hid them in various books and places for her to find after I'm gone and I also cried. A LOT. In private, on the floor behind my locked bathroom door.
December 21, 2015, almost 8 months post ALS diagnosis, I met with another neurologist, an ALS specialist, through the prompting of an old supervisor whose husband was in the end stages of ALS and had been receiving excellent care via this specialist. Afterall, if my destiny was to succumb to this disease, I may as well have the best care. That is when I received the best Christmas gift ever. I was told that I did NOT have ALS. What she thought that I had was Charcot Marie Tooth disease which is still disabling.  However; it is slow progressing and is not a death sentence. Ok. Wait. What?!!!!
Here is what I've not shared.  I turned 40 on May 9, 2009.  So far in my 40s I have experienced the death of my 20 year old nephew to heroin, a daughter who was falsely accused of fat shaming which later, after going viral and the media frenzy nearly tore our family apart, was retracted by my daughter's accuser. My other daughter's boyfriend (now ex) of seven years went to prison after having an inappropriate on-line relationship with a minor.  I was diagnosed with autoimmune disease while working in a hostile work environment which was the start of my body's deterioration.  My Dad committed suicide in my family home (my husband and I found him).  My Mom nearly lost our family home two years after my Dad's suicide.  We were scammed by not one, but two, contractors who were supposed to give my mother her dream kitchen, and I've just recently decided that it is not in my character or worth my time and energy to fight in small claims.  AND my siblings no longer speak to each other. Oh, and also….my husband of 30 years and I have been separated since May of this year.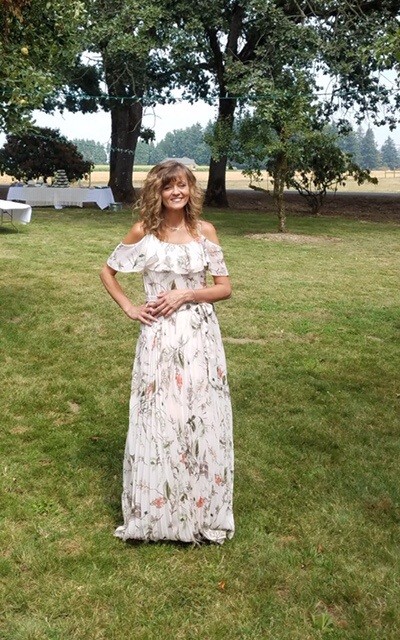 Here is what I've learned. This past decade of my life sucked.  I really can't put it any other way. My 40s were the worst…tragedy, secrecy, guilt, negativity, fake positivity, disappointment and shame took its toll on my body and was turning me into an ugly person. I share this not because I'm seeking sympathy but because sometimes seasons in life just suck. Sh*& happens and life drags you down into a dark, lonely abyss of despair.  But you are equipped with free will and you have choices!  You can kick its @$$ and come out a warrior or you can be the victim of circumstance. So I have Charcot Marie Tooth Disease or maybe some other type of neuromuscular disease.  It's not ALS. Yes, it's robbing me of a certain quality of life I had dreamed of, but it is not robbing me of the ability to create quality in the life I have. I can still dream, I can still live, I can still love, and most importantly – I can!  It is with the guiding grace of God's Holy Spirit that I can look back on my life and my 40s and be grateful for what I went through because it brought me to who I am today. Life lessons are just that.  Lessons learned in life, sometimes the hard way and sometimes it even takes a decade or more. However; what a sweet victory when you can look back and know that although you may have a scar or twenty, you have prevailed and become a better, stronger, version of yourself. I entered into my 40s on a negative note of reluctance choosing to co-exist within the realm of ugly bitterness and despair.  But with some deep internal soul searching, weekly therapy (praise baby Jesus for therapists) and healthy maintenance, I vow to exit my 40s on May 9, 2019 and enter into this new decade of my life with positivity, enthusiasm, and the highest soprano note of gratitude.  Here's to the melody of a life lived to the fullest/  May it turn into a beautiful symphony!!!
God Bless,
Tina Trahan