This post has been republished from an earlier date to include current shopping links…
It's that time of year when we're all tired of wearing sweaters and snow boots and ready to pull out the warm weather clothes. After almost an entire year of quarantining and pandemic insanity, we need springtime and sunshine this year like no other!
Although the days are longer and temps are beginning to rise, it's not yet warm enough to go outside without layers, or to wear sandals without getting hypothermia. If you're reading this and thinking to yourself, "how does she even wear sandals with afos/leg braces?", then I suggest you begin by reading my post, Skinny Jeans & Leg Braces.
Of course, as a person who relies on two leg braces to walk, I love that the fall and winter seasons give me the opportunity to wear short dresses with tall boots over my AFOs. This is the dress and boots I wore pre-Covid New Year's Eve 2020.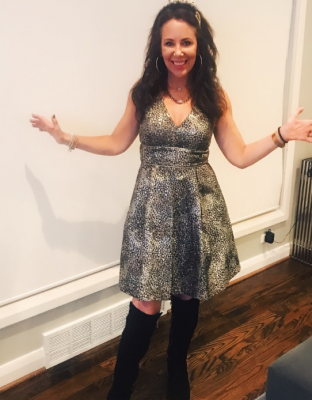 Finding cute and wide flat boots to fit over AFOs is not easy. If you want to know what to look for, read my post, Finding Mr. Right Boot. This winter has been brutal on both my body and my temperament. After months of dealing with the snow, ice, and record freezing temps, I'm officially over Winter and ready to give it the boot…rather, the bootie.
What's a bootie? A bootie is a cross between a shoe and a boot, and it's the perfect transition shoe to take you from Winter to Spring. Also, booties by their very nature, have built in ankle support – a bonus for those of us who have foot drop and neuropathy.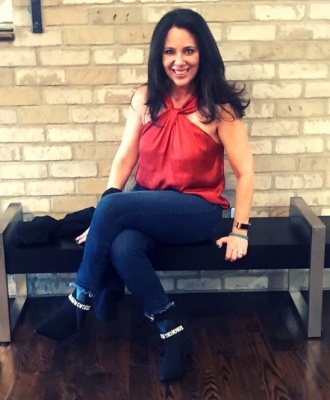 Since I choose not to show my AFO's on a regular basis, I like to pair my booties with cropped denim that hits my legs right at the top of each shoe. For example, in the image above, I'm wearing an old pair of jeans that I cropped and frayed myself to wear specifically with booties and hi-top shoes. You can learn how to do this easy hack in my post, How To DIY Frayed Denim.
Do you want to join me in giving Winter (and Coronavirus) the bootie? Here are 8 pairs of AFO friendly booties that will help you make a stylish and comfortable transition into Spring.
Click on the photos and/or links below to shop the shoes pictured and be sure to scroll to the bottom of the post for a ton more AFO friendly booties.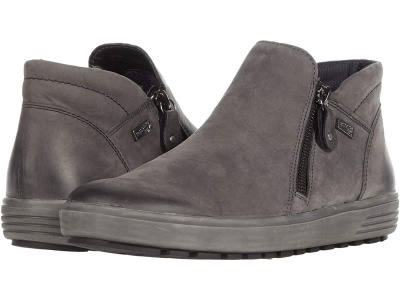 These adorable gunmetal booties (they also come in black & rust ) are crafted in rich full grain leather. They have dual side zippers for easy access. Best of all, the footbed can be removed to allow enough depth for AFO's (leg braces). Bonus, they're also water resistant.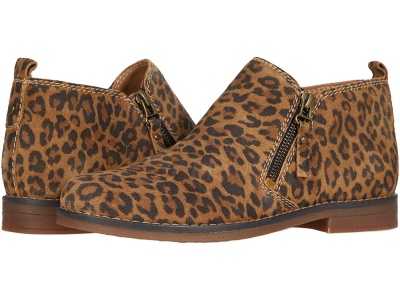 This pair of suede booties is a favorite of anyone seeking both style & comfort. In addition to animal print, this awesome booties comes in several fab spring colors. I love the pink ones! The dual side zippers and completely removable footbed makes them an ideal bootie for AFO wearers. Be sure to order a wide width and you'll never wanna take them off!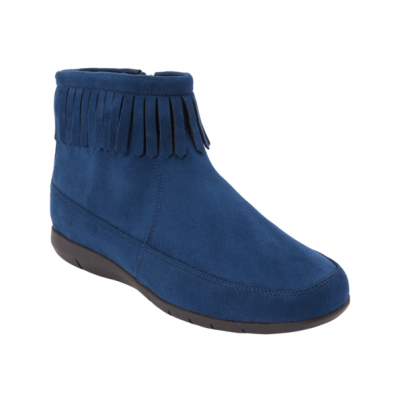 This awesome bootie features a suede-like upper (feels like genuine leather) with fashionable fringe along the top. It is a wide width boot (comes in 2E) with a side zipper for easy access. I own this bootie in black & love it! Plus, you won't believe the price.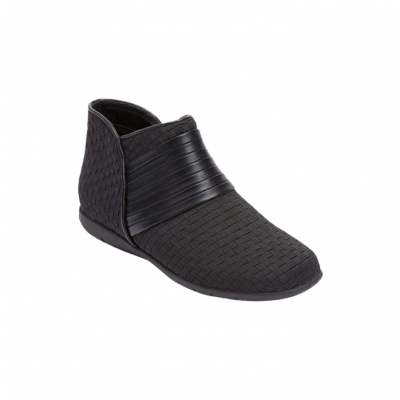 Your new go-to for effortless style! This bootie has a stretchy woven fabric with leather-like straps and polished piping. Although it only has an inside zipper, the Kayla bootie is extremely stretchy and available in an EE width – making it a great choice for orthosis wearers. It also comes in several colors.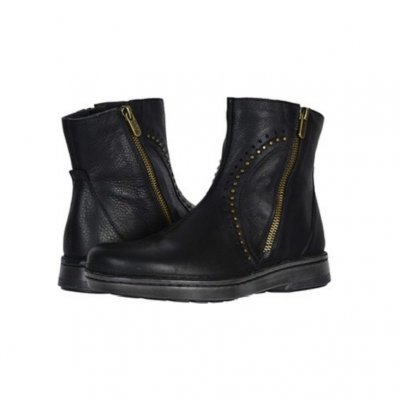 You gotta love a stylish biker boot that's disability friendly without even trying. With it's wide toe box, dual side zipper entry, and completely removable footbed, this gorgeous full grain leather boot is timeless and definitely worth the investment. I'm in love with the stud detail!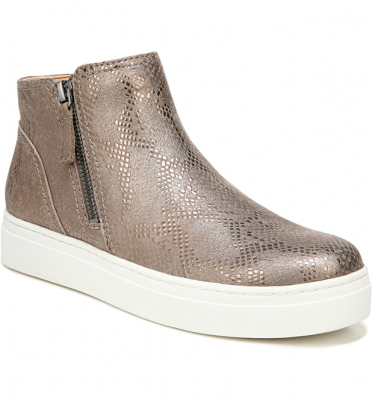 As you know from reading my Not Your Grandma's Comfort Shoe's Post, I love how flatform shoes give me height while still being balanced. This flatform sneaker boot is casual, stylish, and perfect for spring! I love the subtle metallic leather on the one pictured, but it's also available in black. The side zipper and removable insole make it a great shoe for people who wear slim carbon fiber type AFO's.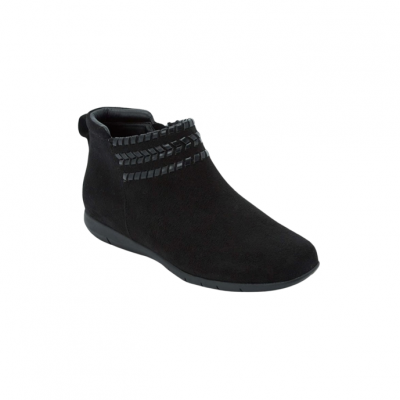 A modern update to the classic suede-like bootie with leather-like whipstitch detail and a comfortable, low heel. It is available in a double wide and has an inside zipper. Since the insoles are not removable, this bootie is best worn by those with slim carbon fiber type AFOs.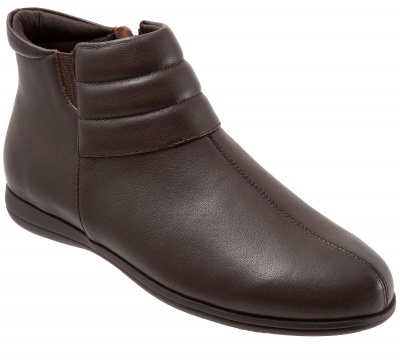 A short little shootie bootie! This one will be your everyday go-to. With it's almost completely flat sole, easy side zipper, and completely removable footbed, this one's an AFO friendly winner! It comes leather or soft suede and it's available in several colors. Be sure to order a wide width!
What do you think of the above booties? Let me know in the comments section below. Oh and if this is your first visit here, please join our Perfectly Imperfect Tribe. Our non-spammy newsletter will keep you in the loop of new shoe posts and more.
Xoxo
Lainie