September is back to school time . If you're like many moms I know and spent the summer working unpaid overtime as camp directors & uber drivers, you're probably doing a little freedom dance every weekday morning.
My dance ( if you could even call it that with my leg braces & sucky balance) is mixed. While I'm ready to return to my regular schedule, I'm also very aware of how old my kids are getting ( I can't believe my girl is a senior) and of the fact that back to school time will soon mean out of the house and not coming back time. Ugh! "Don't go there Lainie!".
I've assembled a couple of back to school looks as inspiration for moms in our perfectly imperfect tribe. Because, while we navigate drop offs, carpools, runs to the market and after school activities, we deserve to look our best—which helps us feel our best.
You should know that if you choose to use the links below to make a purchase, I do get a small (like not enough to buy a Starbucks latte ) percentage as commission. This doesn't cost you anymore & potentially helps me offset a small portion of my website expenses.
The Casual Mom
Whether you're doing dropping young kids at school, carpooling to & fro after-school activities or meeting girlfriends for brunch, a comfy pair of stylish jeans always works. I'm not a "bare your brace" kinda girl, so the style of denim I wear needs coordinate with my shoe of choice for the day.
I love wearing tall boots over skinny jeans and will show this look in future posts. But for my everyday errands & activities, my go-to are sneakers. Since it's gotten really hard for me to tie shoelaces due to progressive neuropathy, I get excited when I find a pair of stylish sneakers with velcro closures. The sneakers pictured have a "flat-form" sole.  Although I can't wear heels, I have found that I can walk comfortably in shoes that have with an elevated and completely flat sole. This style adds height (eg. I look thinner) and looks great with straight and flared  leg jeans.
Because my hands don't always cooperate, I typically carry a small handle bag with a crossbody strap option. I'm loving the style and simplicity of a cellphone wallet. The one below has a rocker vibe & is worn as a crossbody. It fits just the essentials, which for me includes a cell phone, drivers license, debit card & lipgloss. I choose an over the head poncho (preferably cashmere) because it's easy to wear & goes with anything and of course a cool stretch bracelet gives any outfit some personality.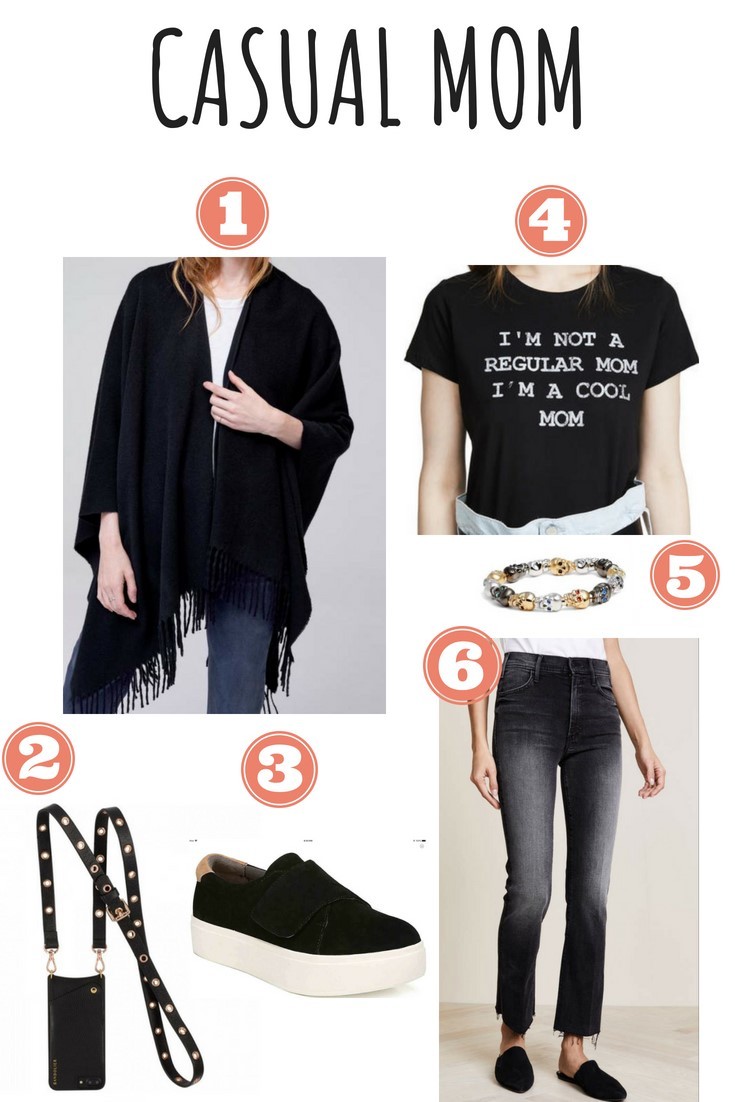 THE CAREER MOM
Since I work from home, my interactions with people are mostly online or on the phone. Thus, my wardrobe is casual and consists mostly of tees, jeans and workout clothes. On the rare occasion that I need to look professional and dress up like a grown-up, I always find myself tugging, itching and counting down the seconds until I can get home and out of whatever I'm wearing. I truly empathize with career women who wear leg braces and have other physical disabilities as it's truly a challenge to find fashionable shoes and outfits that are both comfortable & work appropriate.
A cute stretch blazer is a wardrobe staple as it works just as well with dress pants as it does with jeans. I love wearing a pop of color with an all black outfit. A silky camisole is easy to wear and looks great under a blazer.
When you have physical challenges, it's always a bonus to find pull-on style pants that are also fashionable. A flat with a pointed toe elongates your legs and works well with any style pant leg. Since I wear afos/leg braces, I need shoes that are wide and have plenty of depth. I also need shoes with an adjustable tie or strap to help keep my feet from slipping out of the shoe. When I find a great wide width shoe that works for me but lacks a strap and/or has hard to fasten buckles, I often take them to a shoe peddler to have an elastic strap added or velcro fasteners sewn in place of buckles.
One item for every career women that's worth the splurge, is a great designer handbag. I choose small to medium size bags that are easy to open and maneuver. I look for magnetic closure satchels with a crossbody strap. Finally, it's super easy to layer beautiful elasticized stretch bracelets and throw an on trend pendant over your head.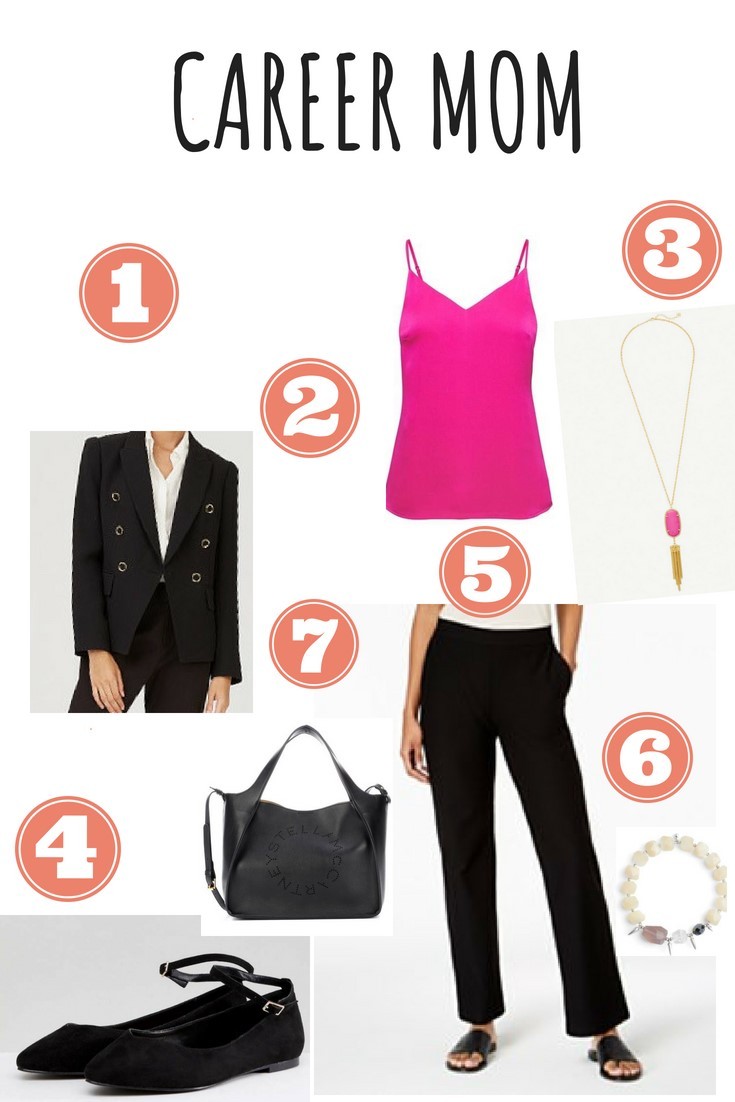 Like many moms, I'm always rushing to and from things and rarely have time for an outfit change. I look for quality pieces that can be mixed and matched. You can easily pair a cami with jeans for a mom's night out, or wear a graphic tee under a menswear style blazer with sneakers and achieve a totally different look.
What do you think of my picks? Let me know in the comments below. If you didn't see my post on Fall Shoes with Removable Insoles, check it out here: