This post as been updated as of January 2021 to reflect current products & fashion
There is no better excuse than Valentine's Day to channel your inner Beyonce and act like the sexy goddess you are. Whether you're planning a romantic night out, dinner with girlfriends, or a date night with Netflix & some cheap champagne, February 14th is all about looking and feeling red hot – disability, or not.I've got you covered with these Valentine's Day fashion trends.
Ok, I know…It's a Hallmark Holiday, blah blah blah…I get it. If you're not the Hallmark Christmas movie type, you may think that Valentine's Day is cheesy and over commercialized, which of course, it is…But is there really a downside to a day celebrating love? Plus, I heard they remove all the calories from chocolate when it's molded into hearts.
You don't have to look like a Victoria's Secret model or wear high heels to be sexy. You can be the hottest woman in a room and enter it holding a cane or wearing leg braces. It's all about attitude and how you feel in your own skin.
When you hyper-focus on your flaws, you inadvertently tell others to pay attention to them too.
A sexy woman with a disability accepts her imperfections and knows how to rock her best assets.
The good news is that you can learn how to be body confident with a disability.
To be sexy, you have to think you're sexy.
The best illustration of this is in the movie I Feel Pretty by Amy Schumer. Did you see it? It got pretty horrible reviews, but I loved it. Basically, a woman named Renee (Amy's character) who struggles with major insecurity and rejection on a daily basis, hits her head and wakes up believing she has morphed into a supermodel. Although Renee's physical appearance never actually changes, her self-perception does.
By thinking and believing she was beautiful, Renee becomes confident. This confidence gives her the courage to take risks and be open to new opportunities, including love. Of course, falling off of a spin bike will not have the same magical effect off-screen as it did on screen. But, you can alter your self-image by learning to change the thoughts you have about yourself. 
Check out this detailed step by step guide on how to improve your self-image in order to be happy and confident with a disability.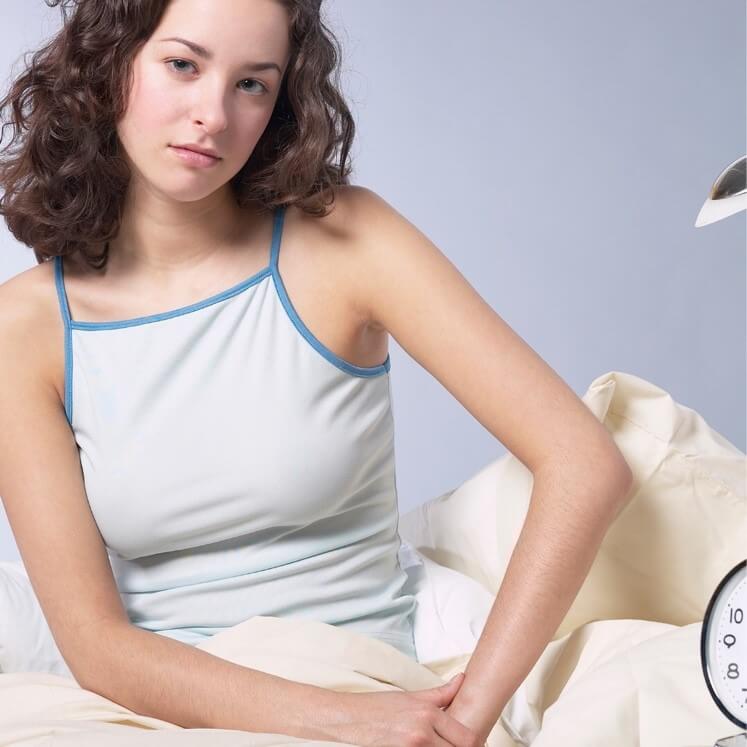 For those of us in relationships, Valentine's Day is our annual reminder to spice things up and prevent monotony in long term monogamy. By making an effort (like shaving your legs or getting waxed) you send your partner the unspoken "you're worth it" message. This act alone is an aphrodisiac, which is great because watching me attempt to eat an oyster, would be the antithesis of a turn on.
It is important not to blow off Valentine's Day, anniversaries, or any event celebrating your relationship. They are an opportunity for couples to be intimate, share memories and remember the qualities that initially attracted one person to the other.
This is especially true when one partner relies on the other for physical assistance and/or caregiving due to disabilities. Unless you're playing out a doctor/nurse fantasy, it's important to keep the care-taking to a minimum in the bedroom and to have equal giver and taker roles.
To really spice things up, why not try one of the fun and disability friendly romantic date night products that I put together for you below:
 

BUT I DON'T HAVE A VALENTINE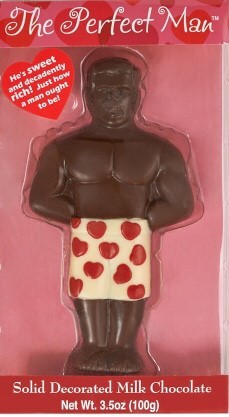 If you're single and looking for love, Valentine's Day may not rank high on your list of favorite holidays.    I feel your pain and get it. After getting divorced in my early forties I worried that I'd spend February 14th alone (with a bunch of cats) forever. I believed that my disability would be a deal breaker for any man I'd want a long term relationship with. Fortunately, I was wrong.
If you're newly single and have similar worries, read this post and get my best tips for online dating with an invisible disability.  Also, go here for an awesome guest post by Rebecca Etchberger who talks about how to be single and dating with Charcot Marie Tooth Disorder.
Your story is completely up to you and you get to choose how you want to live it. You can stay home feeling bad this Valentine's Day eating a chocolate version of the perfect man, or you can put yourself out there and meet new characters that may change the plot of your adventure with a disability story with. I'll help you get started here.
BUT, I HAVE NOTHING TO WEAR
I never need an excuse for a new outfit, but if you do then Valentine's Day is a great one. Although sexiness comes from within, an outfit that flatters your figure and shows a little skin doesn't hurt.
There is a fine line between dressing sexy vs dressing trashy. Here are some basic rules of thumb
Choose one sexy area to highlight (boobs or legs, never both).
Wear fitted clothes not tight clothes.
Tactile fabrics like cashmere or the faux fur jacket below, can be alluring.
Wear fun accessories to highlight your best features.
Undergarments matter (flashback to the girdle scene in St. Elmo's Fire)
Of course you should wear clothing that's comfortable and that you feel great in. Here's an outfit that's casual, sexy, and disability friendly: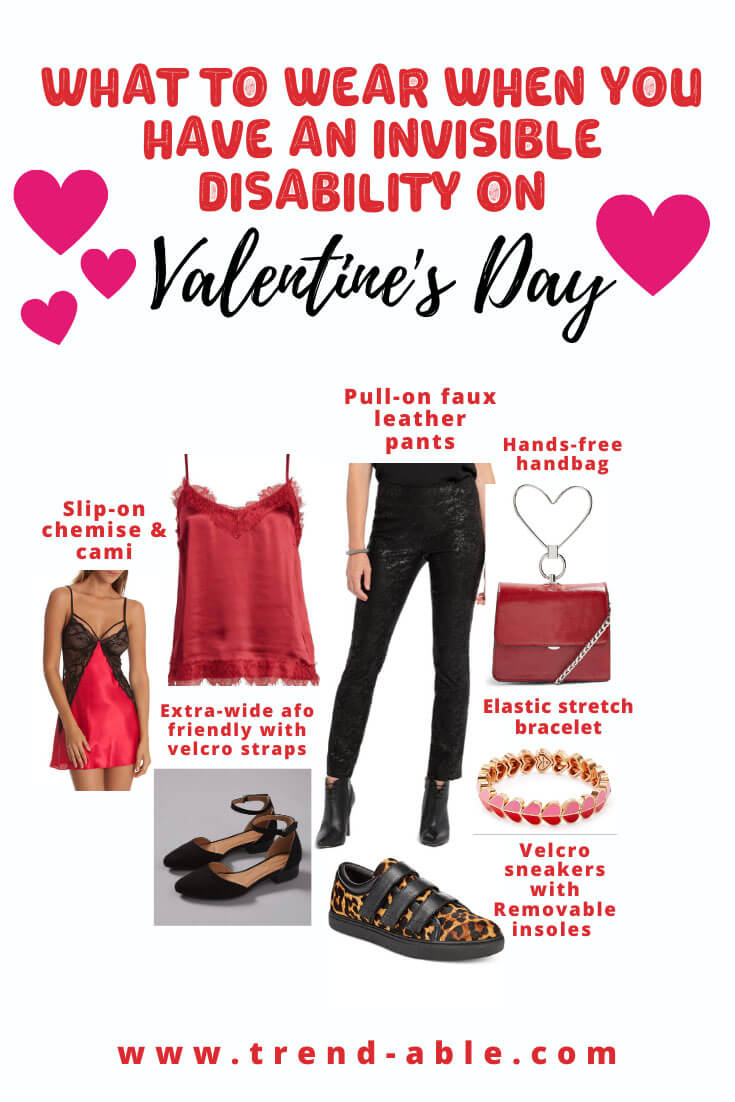 SHOP THE LOOK

Scroll & click on the images below to shop the items above.