Valentine's Day may be over but the color red is hotter than ever. These styles will have you looking and feeling great, with the added bonus of concealing your orthoses and being easy to put on despite any fine motor issues.
These are items that I love and want to share. I am not making any money by promoting these, I'm simply sharing the links for your convenience.
If there are any additional items you're loving right now please share them with me in the comments!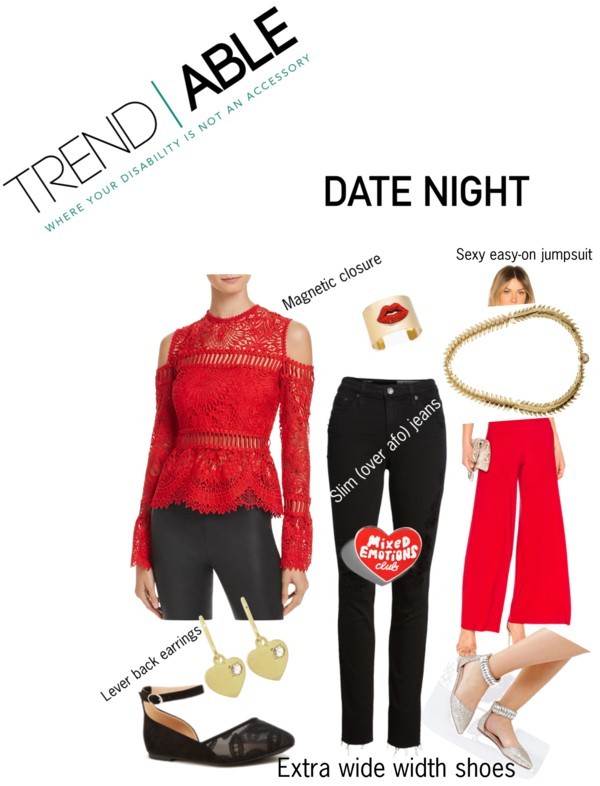 Sexy Easy-On Jumpsuit
The Slip Jumpsuit by Norma Kamali is stylish and elegant. The wide legs allow you to conceal your AFOs, and the stretchy fabric ensures that it will be comfortable and easy to put on. Just add shoes and accessories and you're ready for a night out!
Slim Black Jeans
The Prima Mid Rise Cigarette Jeans by AG highlight your figure while the cotton/elastane fabric offers enough stretch to fit over top of your othoses (and is forgiving if you decide to order dessert). Because they're black, they transition seamlessly between daytime and nighttime ensembles.
Embroidered Top
The Sistine Embroidered Lace Cold-Shoulder Top by Saylor has a beautiful silhouette and the bold color gives it extra personality. It's perfect for pairing with black or dark denim and adds some sass to your outfit, day or night.
Extra wide width shoes allow ample room for feet supported by AFOs and the feminine details in both of these pairs make them perfect for dressing up.
Crochet D'Orsay Flat
The beautiful pattern on these black Crochet D'Orsay flats is neutral enough to wear every day, but classy enough for a night out!
Embellished Ballet Flats
The glitter and jewel embellishments on these ASOS Lilac Wide Fit Embellished Pointed Ballet Flats make them perfect for date night (or girls night). You'll love that you can wear them with anything (including AFOs)!
It's amazing how accessories can transform your outfit from everyday to unforgettable. Here are a few disability-friendly accessories that are perfect for a night out.
Magnetic-Close Gold Necklace
Add a little glam to your look with this Roman-inspired Dorado Link Necklace by House of Harlow 1960. The magnetic clasp is manageable for anyone with fine motor issues.
Gold Cuff Bracelet
Cuff bracelets are a great option for those of us with fine motor issues; there's no tiny clasp to fuss with! This Gold-Tone Red Crystal Lips Cuff Bracelet by Thalia Sodi brings plenty of flare to any outfit.
Lever Back Earrings
These are a great option for those of us with hand problems, who can't be bothered to fight with tiny earring backs. With lever backs you just clip them shut and you're good to go!
I love the Charity Charm Heart Earrings by Irene Neuwirth. They're simple, but the rose cut diamonds add extra femininity!