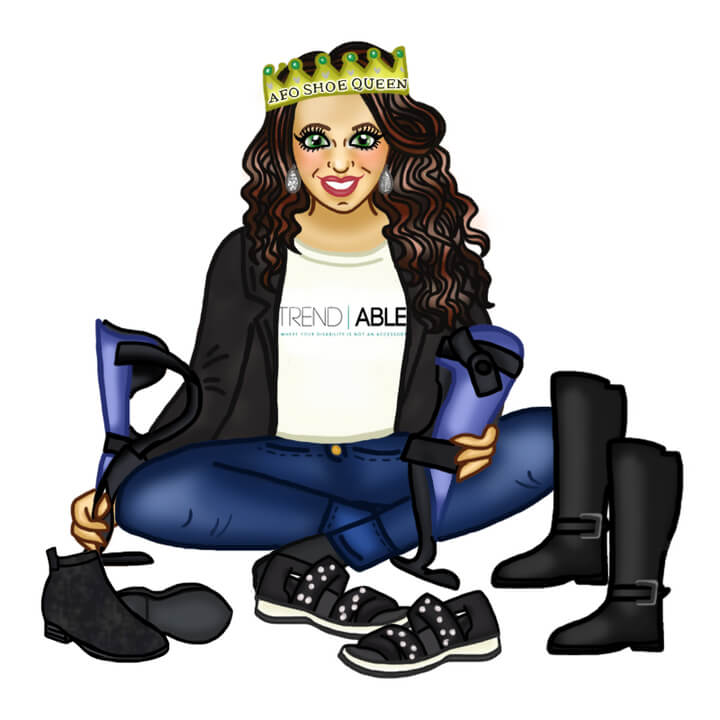 Trend-ABLE is a site for women, like me, with
invisible (not obvious)physical disabilities who want to look and feel their best. The focus is on providing Perfectly Imperfect women with tools, fashion, and inspiration to live their best lives despite medical conditions and physical limitations.
Some of us use orthotic or prosthetic devices due to neurological, movement, or inflammatory disorders. Others use them because of a birth defect, joint problem, or major accident.
Some women with invisible physical disabilities have autoimmune diseases like lupus, psoriasis, MS, rheumatoid arthritis and Crohn's disease to name a few. They may require orthotic/support devices for balance and/or walking, hand splints at night, or wear colostomy bags or hearing aids.
Strangers and even people we know may not be aware of our physical challenges. Depending on the day and situation, this can be good and bad. I Get It.
It sucks to be the woman stuck in boring flats when your true self is a woman in purple stilettos or classic Jimmy Choos. It's frustrating not to be able to do things you wish you could do and perhaps once could.
To some, focusing on appearance is viewed as superficial and unimportant. For me, fashion and appearance are things that I can control; giving me some power over my disease.
I started Trend-ABLE because as a licensed therapist and self-proclaimed fashionista in leg braces, I know that increased self-esteem leads to a better life overall.
Trend-ABLE is more than just finding clothing or shoes that work for your disability. It is about finding yourself and loving yourself; inside and out.
I am passionate about helping women be the best they can be.
I hope you will join our Perfectly Imperfect Tribe.
Don't miss a single life-changing tip!`