There are many things that can be learned from having a disability – lessons that apply to everyone, disability or not. Although I am a sophomore in college now, when I was in eighth grade, I started to lose control of my legs.
I went from being a competitive gymnast to having difficulty walking. I was diagnosed with a neurological movement disorder that affects my legs. I've had numerous tests, six surgeries, multiple rounds of Botox injections (but hey, at least my legs will be wrinkle free). I've also had immeasurable hours of physical therapy, and countless trips to the Cleveland Clinic.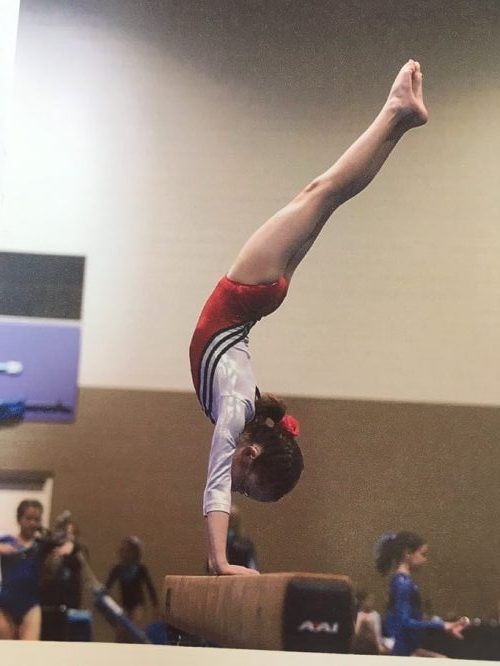 The lessons that I learned, I also shared to the class of 2018 and all of the attendees at my high school graduation. I have realized that life can be quite a roller coaster, and the best way to cope when life turns us upside down is to accept the challenges that we face, and remember, you have what it takes to overcome them!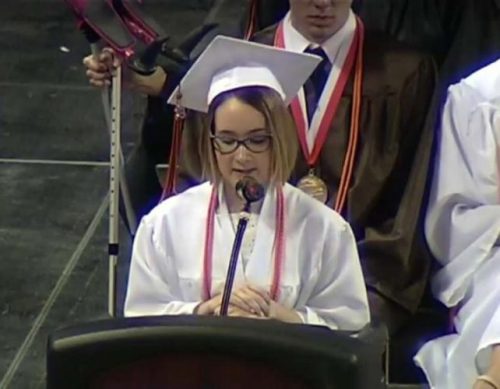 Lesson #1. Do not wait for the perfect moment to pursue or try something new, because it may never come. My freshman year of high school, I didn't do many activities because I thought my movement disorder would get better. I had the attitude, "As soon as this is fixed, I'm going to… (fill in the blank)." Here it is, the middle of my sophomore year in college, and I'm still not "fixed." I regret missing opportunities to try new things.
When I reflect back, I thought I was just waiting for the perfect moment, but really, I was scared to step out of my comfort zone. We all have certain experiences that make us uncomfortable; I know I do! For example, public speaking and walking in front of people are two of mine. And both of which I did in front of more than 2000 people at my high school graduation! To quote author and journalist Caroline Myss, "You have to remember to always go with the choice that scares you the most, because that's the one that is going to help you grow."
Lesson #2. Always look for unforeseen "teachers." Following one of my surgeries, I spent several weeks in inpatient care. While I was there, I had the chance to meet an incredible group of kids, many with severe health issues. These kids taught me about perspective. I realized that the things that once seemed incredibly important to a high school teenager weren't so important after all. You have a chance to learn from every experience and every personal encounter. There is a purpose for those that you meet. Some people come into your life to test you, some to teach you, some to use you, and some to bring out the very best in you.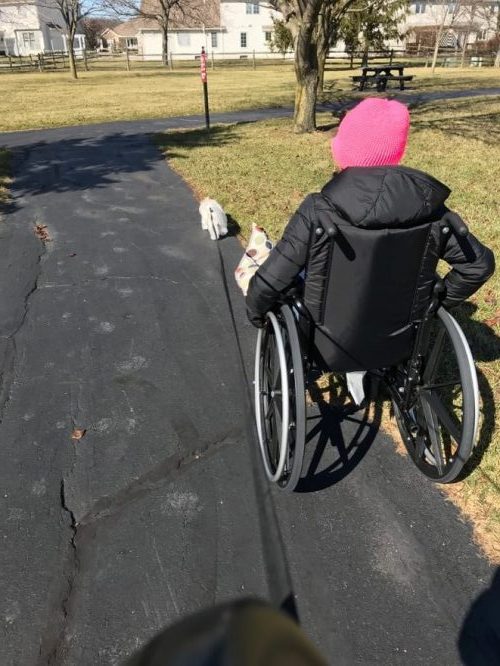 Lesson #3. So many of us try to project an image of perfection; but we are all imperfect and all have challenges. Striving for perfection is a path to failure, because we learn the most from our mistakes. Most often, those that take the biggest risks and are willing to fail, enjoy the most reward. Failing doesn't mean giving up. It means you have to get back up and try again. If you are ready for failure, then you are ready for growth. FAIL stands for "First Attempt In Learning." END is not the end; it means "Effort Never Dies," and if you get NO as an answer, it just means "Next Opportunity." Sometimes you just need to redefine your definition of success.
Most of us have had, or will have, some type of challenge in our past, present or future; some are just more visible than others. When my legs started misbehaving, I was scared, embarrassed and very self-conscious. I've since learned to be brave enough to be myself. Once I stopped hiding, I realized that I wasn't alone, and no matter what you are going through, you aren't either.
Lesson #4. Not everything is fixable. Sometimes life just sucks! Sorry Mom, I know you hate that word, but sometimes it really does, and there's nothing to do but cope, and coping is hard work.
Lesson #5. Through my crazy journey, my most powerful lesson is the importance of "grit," a term taken from Dr. Angela Duckworth's TED Talk. Grit means the passion and perseverance to take on a long-term goal. I've learned that a singular thing, like a movement disorder, a test score, or other obstacle, does not define our ability to succeed. If I let this disorder define me, I would not be 4 hours from home completing an accelerated, 5-year Master's occupational therapy program.  Grit is our willingness to put in the work, whether it's in academics, extracurricular activities, or in my case, re-learning how to walk, that ultimately leads to achieving our goals. I've learned that we grow the most when we face challenges but it's the "grit" that truly defines who we are.
So to the Trend-Able tribe, I hope these lessons give you a new perspective to help stay on track through life's up and downs, and help you to EMBRACE your life.  And remember, behind you are all of your memories, before you are all of your dreams, around you are all who love you, and within you, is the grit that you need!