When I launched Trend-Able almost 3 years ago, adaptive fashion and products for people with disabilities were just starting to become a thing. Since most of the "adaptive products" on the market still seem to be geared for people recovering from surgeries and/or the home bound elderly (as opposed to stylish active people like us), I've shared many of my own disability hacks over the years to help make getting dressed, getting out, and living one's best life easier when you have hand weakness, wear leg braces, and/or have other disabilities.
But during my most recent seemingly futile search for new and innovative products, I was beyond excited (I'd have been jumping up & down if I could) to find 5 new cool ones that will help anyone who struggles to get a grip (literally) and wants to look and feel their best. Click on the links and photos below to shop the 4 potentially life-changing products I discovered:
1. A SEXY BRA THAT'S ALSO MAGNETIC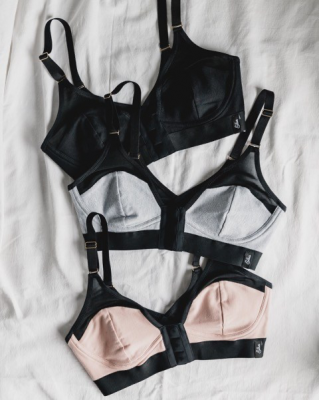 Through several informal surveys of our Trend-Able Tribe Member's greatest challenges when it comes to dressing independently, I've learned that putting on a bra is most women's greatest pain point. Fortunately, Elba London has come to the rescue with their collection of beautiful, sexy, fabulous bras with amazingly strong magnetic front closures.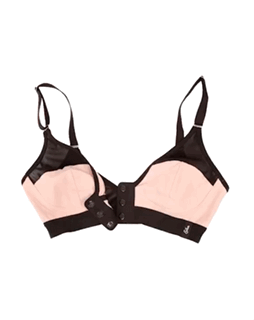 Say goodbye to fiddle hooks and eyes and getting a cardio workout while struggling to twist your bra around. Elba, which spells "Able" backwards, has a patented "EZ magnetic closure" design that puts an end to the bra struggle both stylishly and supportively. You can order in the US direct from a really cool company that also sells other types of disability inclusive lingerie called Intimately.Co. Use the code Trend-Able15 and a 15% discount will be applied at checkout.
2. A HANDS-FREE SOLUTION FOR CARRYING STUFF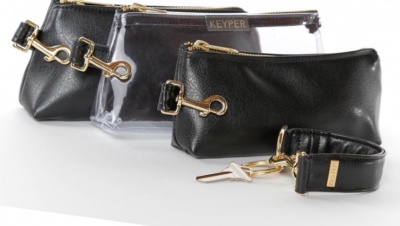 Although the KEYPER was not designed intentionally for people with disabilities, this stylish key ring bracelet (you can purchase it with or without the pouches) allows people with hand weakness and others using mobility devices (like wheelchairs & walkers) to carry their stuff hands-free.
Because of it's patented clip design, the KEYPER offers a numerous potential uses. The tear-free fabric holds up to 20 pounds (that's a ton of stuff), and can be attached to a stroller, grocery cart, wheelchair, walker, or anything else.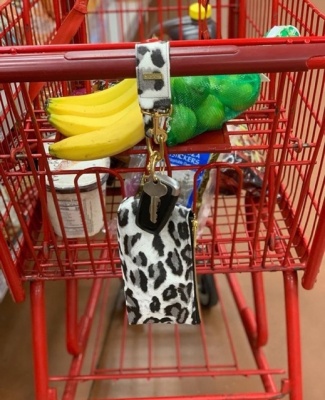 As you can see below, I attached mine to a beautiful leather clutch I received as a gift but hadn't used much because, well…it's a clutch.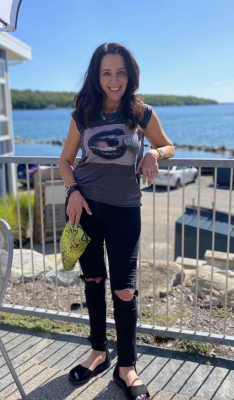 But with the help of the KEYPER, my clutch became a wristlet that I can wear when going out. If I'm at a restaurant, I can remove it from my wrist and attach it to a chair (with help from a waiter or whoever I'm with) and it keeps my bag secure and safe from the inevitable food spillage that occurs when eating due to neuropathy from Charcot Marie Tooth Disease.
3. A MAGNETIC BUTTON ADAPTER SET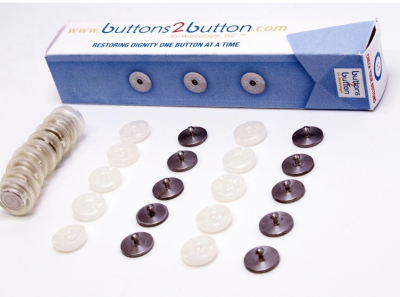 I typically avoid buying button down shirts but when I do, I have to use a button helper tool or I sew the buttons up completely, leaving a wide enough opening allowing me to pull the shirt over my head.
Although magnetic buttoned shirts are now available on sites like Zappos Adaptive, A friend of mine, Gina Adams via her company Buttons 2 Buttons, has come up with a great solution for people who want to convert their own button-down shirts into adaptive ones.

The patented magnetic button adapters (sold here on Amazon), are easy to put on your existing shirts (with the help of someone with no hand challenges) and will keep them closed and secure. Pretty cool huh?
4. A MAGNETIC LAYERING NECKLACE SOLUTION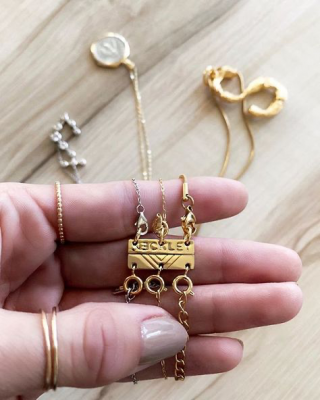 If you've been following Trend-Able and our Facebook or Instagram Pages for awhile, you know I'm a big fan of layering necklaces using magnetic jewelry clasp converters. The problem is that it when all your clasps are magnetic, wearing more than 1 at a time and layering them can be extremely annoying.
When I saw an ad for the Necklet, I knew instantly that I'd found an awesome solution. The Necklet allows me easily put on and layer three necklaces with one magnetic clasp. Although it's not easy to attach them (the jumper rings are tiny), once the necklaces are on the Necklet they stay put and don't get tangled.
As you can see above, I attached the Necklet to three necklaces I own. I plan to buy another one so that I can change up my layered necklaces without having to remove and reattach them every time. You can purchase the Necklet on Amazon here.
Conclusion:
So, what do you think of the above products? Have you seen them before? Tried them? I would love to hear from you in the comments section below. Also, please stay awhile and check out our Store, Podcasts, and most recent Shoes For Afos Post.
Xoxo
Lainie