NO PRESCRIPTION NEEDED
There's an app for almost everything these days. I'm by no means a techy, ( I couldn't move past  level 1 in Ms. Pac-Man and flunked high school typing) but in order to keep up with and track of my kids, I've evolved into an app connoisseur of sorts.
With the help of my besties Alexa and Siri, I've downloaded, tested, and deleted hundreds of apps over the years. I have tried to stay informed on the latest ones that help me as a mom, wife, and woman living with chronic conditions and disabilities, look and feel my best.
What follows is a list of apps I'm currently loving and think others living with chronic conditions and disabilities may want to check out.
Most of the apps are free with a small fee for upgraded and premium features. I am not getting commission (or anything) should you choose to download any of the suggested apps. Note that the following list is not in any specific order and based on the opinion of a non-practicing therapist and blogger, not a doctor (eg, don't sue me).  You can check them out in more detail by clicking on the title next to each number below.
 

1. SWORKIT AT HOME 5-60 MINUTE WORKOUTS
Featured on Shark Tank, this highly rated at home workout has awesome features that appeal to people of all ages and levels of ability. I use it when I am out of town and cannot get to a gym and in between workouts at home.  As many of you know from my blog, A Plate of Pride: How To Ask For Help When You Have Disabilities, I'm a big fan of pilates and have been doing it  4-5 times per week over a decade. Pilates, which was originally designed for people with neuromuscular disorders and injuries, has been life changing for me and helped to slow down the progression of my disease.
This app offers beginning to advanced Pilates mat classes as well as strength training and cardio that can be modified right in the comfort of your own home.  You choose the length of your workout, from five minutes to an hour, and the app fills that time with the type of exercises (strength, cardio, etc) you request.
We all know how easy it can be to feel down and negative when you have disabilities and/or a chronic condition. Many of us struggle with body image and low self esteem related issues. You can read about mine in my Skinny Jeans & Leg Braces Blog.  This app aims to shift your mindset to a happier one using a variety of fun games and activities designed by a former successful video game creator. It uses a combination of mindfulness, positive psychology and cognitive behavior techniques to gives you the tools to help you take control of your thoughts and feelings.
When I worked as a therapist with adolescents and women who had low self-esteem and body image issues, I used many of the techniques found in this app and noticed dramatic improvements. I believe that we can learn to think differently and Happify  can help you practice. Plus, they say that after 4 to 6 months, 86% of Happify users reported an increase in overall happiness.
People with chronic conditions and illnesses tend to have a lot of prescriptions. Although I do not use this app personally, it comes highly recommended by a friend of mine who because has a hard time remembering to take her pills and refill them due to brain fog from MS.
This medicine reminder app is simple to use and can also help a mom or caregiver manage numerous people's medications thanks to multiple profiles. It also tracks your prescriptions and reminds you when it's time for a refill. Medisafe also happens to be the highest rated and most downloaded medicine reminder on the Apple store.
Be My Eyes is a global community that connects people who are blind or have low vision with sighted volunteers. On the app, volunteers assist blind and low vision users through a live video connection and work together to tackle challenges and handle a wide range of tasks. The app harnesses the power of generosity, technology and human connection to help blind and low vision people lead more independent lives. For example, a vision impaired user of the app can connect while at a grocery store for help reading the expiration dates on a product, or for help finding products in an aisle.
There are a ton of meditation apps out there to try. I am not the hippie dippy type ( I pretended to like the Grateful Dead & volunteered at GreenPeace in college because I liked a long haired boy), but I definitely believe in the positive effects of conscious breathing and mindfulness, and definitely need all the help I can get with both. One of the reasons I like the Stop, Breathe & Think App, is because it works handsfree with Alexa which is truly one of the best tools for anyone with physical challenges.
As soon as you open the app, it dims the screen for 10 seconds, which helps you immediately relax. The app then helps you assess your emotional and physical status and generates optional exercises and videos based on your results.  There are also a ton of free guided daily meditations.,I'm loving this app and use it alternately with Happify mentioned above.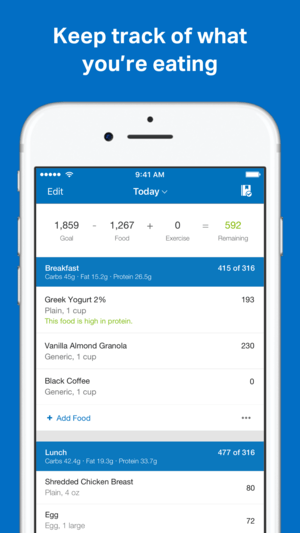 My neuromuscular disease called Charcot-Marie-Tooth Disease is slowly progressive and affects the peripheral nerves. Although there is currently no cure or treatment, I strongly believe that staying fit and having a strong core, has helped to slow the progression of my disease by  compensating for the damaged nerves and lost tissue in my hands and feet.
Since I've had a history of body image issues (my parents seriously sent me to "fat camp" which you can read about here), I try not to be obsessed with the number on the scale. Instead, I use the My Fitness Pal App to help me stay on track and be accountable for what goes in my mouth and how much I move.
I use it to keep a daily diary of my food, water intake, and workouts. My fitness Pal syncs with the Fitbit App so my steps are also figured into the calories in and out expenditures. I love that it knows the nutritional info of many restaurant dishes, even the calories and carbs in an order of my fav, chicken tikka masala.
Lyft and Uber are awesome apps for everyone, but especially for people with physical challenges. I used to use them infrequently to get around big cities like New York and Los Angeles when traveling but now use them often in lieu of driving at night in my own hometown. While I have both the Uber and Lyft apps on my cellphone, I personally like Lyft better and have experienced the drivers to be friendlier and cars to be cleaner.
If you use a wheelchair or need extra assistance , The App has an "access mode" available in some markets that when switched to the on position, allows passengers to request a vehicle that is specially outfitted to accommodate wheelchairs. They suggest making the request 24 hours in advance. In markets where those vehicles are not available, information regarding local services will be sent directly to the passenger via text message when the ride is requested.
I have been in a book club for over 10 years but rarely find the time anymore to actually read any of the books. I show up regularly for the socializing and wine part and then leave the minute someone initiates the book discussion part. Well, I'm gonna shock them all this year thanks to Audible.
Audible's tagline is, "when you can't read, listen." and this is exactly what I do in small sessions while driving to Target and after dropping a kid off at their friend's house. I also use it via my Amazon Alexa or Ipad when I'm in my kitchen not making dinner. In just seconds, you can download any type of book, podcast, TV program, or audio versions of magazines and newspapers. Obviously, this is awesome for people who are blind and visually impaired, but it is also great for those of us with fine motor challenges who have difficulty holding things and/or turning pages.
I have met many people in the online chronic illness and disease community who lead completely natural and organic lifestyles and believe strongly that the products we use can be toxic and serve to worsen our symptoms and conditions. I'm not giving up my diet coke habit anytime soon, but I can easily make an attempt to rid myself and my family from household toxins, especially with the help of the Think Dirty App.
The app is designed to help people like myself navigate their way through their beauty products and personal care products, and to find out what products contain harmful ingredients. You begin in your bathroom and use the app to scan the products you currently have. You will then receive a rating of how "Dirty" your bathroom is on a scale of 1-10. The app gives you a clear understanding of the rating system. Starting with 0-3, those products do not contain any known controversial or harmful ingredients. Next on the scale is 4-7, whose ingredients have moderate long-term health impacts. Last is 8-10, meaning those ingredients have serious long-term health impacts. This app is truly a good source of information to open your eyes and see how harmful your everyday products could be.
For someone who uses wheels to get around this App seems indispensable. For those of us for whom level ground and balancing issues are a challenge, it is also tremendously helpful. It looks sort of like Google Maps; it is based on the principle of a cooperative community – many people collect and share their information on the wheelchair accessibility of public places. For this purpose, the map uses a simple traffic light system which is easy to understand.
The app is based on the geo-data of OpenStreetMap.org and works in all parts of the world. If you want to go somewhere, click on the place on the map and it will let you know if it is wheelchair accessible or not. Pretty cool, right?
One in six Americans (the majority of them being women) say they have significant chronic or severe pain. A 2014 study found that chronic pain significantly increases a person's risk of depression, anxiety, and even suicide. Of course, this info is not at all surprising to those of us who live with chronic conditions and disabilities.
I recently saw a Facebook add for Curable and was intrigued. Although my neuropathy related  is intermittent, I figured it couldn't hurt to try using the app. Curable is like having a best friend and therapist in your pocket; Her name is Clara.
Clara, the virtual pain coach, interacts with you by sending text messages, activities, resources and funny gifs. The app was created by people who suffered from chronic pain themselves which is why it feels like you're interacting with someone who "gets it".
The Curable data indicates that 70% percent of people who use the app for 30 days or more, report some physical relief, with half of those saying their pain is "much better" or "completely gone,". Although the app is not a "cure" for chronic pain, it's benefits may be worth the small monthly fee.
I have been using the Life360 App daily for several years. My entire family is connected and I find it to be indispensable in keeping track of everyone and keeping us all safe. The app  includes a full location history, which is nice for an overview of recent activity and can be used to message family members. I love that I can set notifications to know when my kids get home and use their phones while driving.
In case of an immediate emergency, the App has a panic button and will send a "help alert" to your emergency contact list with your location via email, in-app notification, text and a phone call. The app also gives the phone battery life of users which for me, serves as a reminder for me to not so gently nudge my son, Blake, whose battery is always low, to charge his phone.
If you have read my posts and follow me on Instagram or Facebook, you know I'm not exactly a cook. One of my justifications for not cooking (and excuses) is that I truly detest grocery shopping. For me, it is more a preference thing, but for other people living with chronic conditions and/or limited mobility, everyday errands and grocery shopping is hard and exhausting.
There are several home-grocery delivery services and apps available, but the Instacart company and app has the most variety of stores and largest coverage area in the US and Canada. For a small service charge (5% at this time), you can have a personal shopper who delivers items right to your kitchen counter. Using the app, you can choose items from grocery stores, pet stores, pharmacies and even from Costco without a membership.
If you upgrade and pay an annual fee to their Instacart Express service, you do not pay a service charge, can shop from multiple stores within the same order, and get orders over $35 delivered within two hours of ordering and without the extra service charge. While they don't honor in-store coupons, there are often in-app discounts on various items. New users get their first order delivered free. Although this service costs more than going to the stores yourself, it is a convenience for people and a life-changing asset for some people with chronic conditions.
While I could obviously go on, I'll close here for now.  It's time for me to workout…I can tell because my Fitbit app (another favorite) is nudging me to get off my a#! and start moving.
I wish I had my own app to tell each of you how much I appreciate you reading this and how much you rock! 
Do you have any apps to add to this list? Will you try any of the one's above? Please use the comment box below to let us all know.
Xoxo,
Lainie