One of the reasons I created Trend-Able was to help leg brace (Afo) wearers & others living with invisible disabilities find clothing & shoes that helps them to feel confidant so that they can live their best lives. 
As a 20+ year leg brace wearer (ugh, that makes me sound really old) who can't do tiny buttons to save her life & wouldn't be caught dead wearing bulky orthopedic shoes, (read my story here) I've become an expert at finding fashionable and disability friendly shoes and clothing.
Until now, my fashion Blogs like, Not Your Grandma's Shoes, Boots Are A Bit%$, and 16 Sandals, have been geared exclusively for female orthosis wearers like myself.
But times are chhhhhhanging (cue the David Bowie soundtrack).
After receiving multiple requests for posts geared for men's orthotic dress shoes and ortho sandals, I acquiesced and did my research – 2 recent issues of GQ,  3 hours of internet searching + a 15 minute consultation with an in house expert – my 16 year old sneaker-head son.
If I was a guy, I would and could  wear the following 12 pairs of shoes with my carbon fiber style Afos. But first, if you're new to Afos, you may want to download our Afo fashion guide here and also read the Post Hacks for Afos. Now, onto the shoes…. even better, the orthotic mens shoes…
Click on shoe images to see price & purchase on Amazon
This gorgeous shoe boot is available in an extra wide width. It has the easy feel of a sneaker combined with the look of a chukka boot. It is also incredibly lightweight and comes in a few colors.
The Teva sandal is an old school style that is very much on trend this season. The adjustable velcro strapping helps this waterproof sandal become orthosis friendly. Choose between the Teva classic style or an updated version with a chunkier heel.
You can't get more Afo friendly than this Uber cute lightweight boat shoe by Dunham. It is available in an extra wide width and has a completely removable EVA footbed. It is available in several colors.
This lightweight sneaker is categorized as a running shoe, but for orthosis users who may not be entering any 10k's (or any k) in this lifetime, it's also great for walking. The shoe comes in an extra wide width and features a removable insole.
Available in several colors, this sleek athletic styled shoe is also waterproof. The entire footbed can be easily removed to accommodate an Afo or orthotic and it is available in an extra wide width.
One of my personal favorites, this cool waxed shoe comes in both low and high top versions. It has a ton of Afo friendly features, including an outside zip for easy foot entry, a removable insole, and a non-slip gripped sole. It is also available in an extra wide width.
You don't have to follow the Grateful Dead & eat granola to be a fan of Birkenstocks. This style works for orthosis users as it has a back strap and adjustable buckles. Although only available in narrow and medium widths, this sandal reportedly runs wide.
Packed with features, this adjustable and waterproof KEEN sandal will keep you to be outdoor ready. It features a completely removable footbed to fit orthosis and a rubber outsole with tons of grooves to give both traction and stability.
This awesome shoe is extremely lightweight with a breathable mesh material. The insoles are removable.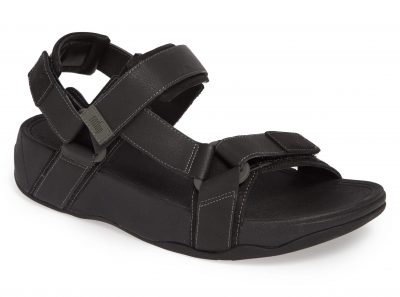 Our supremely comfortable, chunky-soled sandals walk all over the competition. Must-have if you like to be out and about on weekends and vacations, these mix rugged sporty-utilitarian looks with a performance-maximizing features. Lightweight. Slip-resistant. Super-adjustable for a customised fit. With foot-hugging padding behind the straps. And our legendary supercushioned Microwobbleboard midsoles for pressure diffusion, impact reduction – and mindblowing all-day comfort.
Comfort and fashion combine in this sleek nubuck. This shoe comes in a wide width and the footbed is completely removable.  Pair these men's sneakers with jeans or trousers any day of the week.
This shoe gets a big thumbs up from my husband. He saw the photo and said, "I'd wear that". It is a cross between an Oxford & a sneaker and reportedly very comfortable. It is available in an extra wide and had a removable insole.
Click on the shoe images below to shop
Conclusion
What do you think of my very first men's shoe post? Which ones do you like? I would love to hear from you in the comments section below.
Xo
Lainie
Please note, there are affiliate links in this post that if used pay a small commission (wouldn't cover the cost of a tall Starbucks skinny vanilla latte). This does not effect the price you pay at all, but does help me offset some of my website expenses. Also, the shoes posted to wear with orthosis are my own personal recommendations. I am not a doctor or an orthotist and have absolutely no clue about your specific needs and abilities. In other words, please don't sue me.